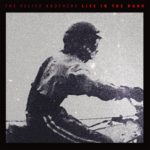 Here are some thoughts on some of the songs Life in the Dark, the latest record from the Felice Brothers. I'd say they got their Americana mojo back, but I don't think they ever really lost it – more took a stroll down a different path for a while, and have now rejoined the original trail.
Aerosol Ball: A Cajun-inflected delight that is dark commentary on consumerism in a bubbly, danceable disguise. I will never look at the St. Paulie Girl the same way again.
The Felice Brothers | Life In The Dark, "Aerosol Ball"

Watch this video on YouTube
Jack at the Asylum: I heard the first couple of bars and thought Oh, they did 'Jack of Diamonds' again?, which – yes, but also no. It's Jack of Diamonds, done American Gods-style. The embodied voice of the frontier, slipping through time, hopscotching states; an American everyman, a rambler, a gambler, a long way from home, counting his cards and making his luck, long after his luck has run out, writing us all a note from the "looney bin" that is both warning … Continue reading