The sixth and final installment, in which our intrepid reporter won a prize, enjoyed some fine audio engineering and also photographed a clean and tidy toilet. It was apparently that kind of day.
---
Last post I wrote about youthful energy and the fact that SXSW will truly kick your ass. Despite the fact that I'm somewhere just south of 30 myself, I was well and truly dragging by that Saturday. Forget making it downtown by noon: I called it a success that I was out of bed and dressed in real clothes, much less getting coffee near the day's first venue, by 1pm.
Though it helped to know I was on my last day of festivities, it helped even more that I was seeing Kan Wakan again. As much as I'd liked the band before SXSW, I grew to like them expontentially more after seeing them a few times. That's something I find hard to say about many bands, much less fairly new bands which have been thrown into the pressure cooker of a festival.
Like most performers, Kristianne Bautista is appreciative of as much support as fans can offer and will openly admit to stage jitters, but she puts herself into star league with the grace she exhibits under stress. Maybe it's her excellent deadpan expression, and maybe it helps that she's onstage with six other people who are handling nervousness at the same time, but she wears "frontwoman" very well.
That was especially apparent at the Cedar Street Courtyard Throwdown show, which featured a giant video screen reflecting the band behind itself into infinity. Kan Wakan played as flawlessly as I'd come to expect and the projectors made for some really fun photo ops; the show was probably my favorite of the entire week.
Plus, as the 600th person entering the courtyard, I won a free poster from Filter Magazine. One learns to appreciate small things at SXSW, especially when it comes to free shit. Can't beat free shit.
In addition to catching some of the free vitamin D and a little musical history, I later enjoyed some of the Take Me To The River Showcase that was clearly audible across the water. The show ended before I could cross the bridge to see it in person, but I still felt as though I'd been in the presence of greatness.
Also, I really must commend the sound techs for their work with loudspeakers: the audio sounded super crisp even a quarter of a mile away over some trees, a lawn, and an expanse of open water. Because that was the case, I felt like walking the Austin Hike-and-Bike Trail was a better and more appropriate way to listen than standing in a crowded outdoor auditorium would have been.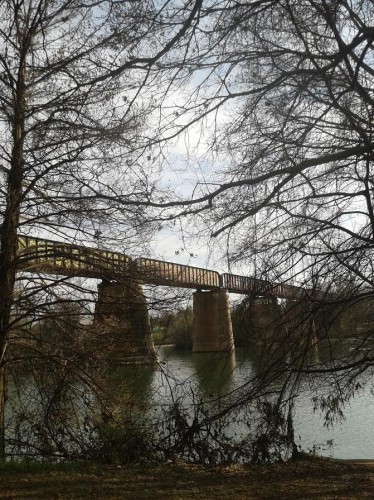 Besides, there were no lines for the (clean and tidy!) public toilets. Insert "can't beat free shit" jokes here.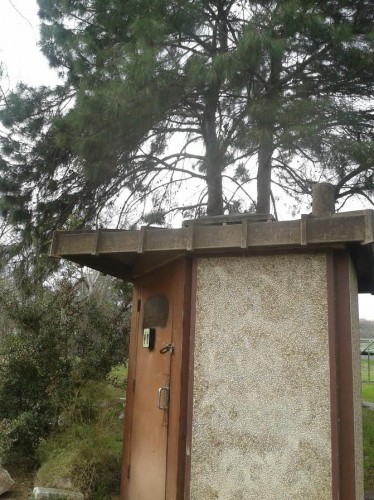 Life can't be all about sunshine, flowers, the smell of early-spring river water, and free outdoor showcases of Memphis music legends, though. After a perfect little hike, I had to get back to work — at another free show, this time on the rooftop of Austin's original Whole Foods.
A hard life, right? Perfectly drudgerous, I'm sure everyone is thinking. Haha, right. If you're actually thinking "that sounds awesome, you terrible little asshole," you would be correct.
At the time, however, I was exhausted. I felt drunk even though I was sober. My grip on reality was probably wavering. It was hard to keep my mind off coffee and I wondered how everyone else was managing themselves. So it was a little refreshing and very hilarious that my fellow showgoers on the Whole Foods roof were managing by lounging in lawn chairs, taking off their shoes, and drinking beer: though the stage didn't look like much, for better or worse it was probably the chillest venue I'd been to all week.
There, in that inauspicious location, I wrapped up my first SXSW experience with a set from Best Revenge.
The new project from Keaton Simons and Deantoni Parks had a lot in common both visually — one guy on drums, one guy on guitar and vocals — and sonically — big rollicking bluesy rock — with The Black Keys, but "the derivative of a derivative band" looked good on them. They melded hook-y sing-along lyrics, blues, rockabilly, and the hint of electronic beats into extremely danceable if unsurprising songs.
Parks, his kit lacking cymbals other than a hi-hat, played bass organ and cued samples with one hand while drumming with the other; Simons indulged his self-described "music nerd" side by switching frequently between a selection of guitars. Most notably, they looked like they had a lot of fun. It made for a positive and energetic show, a good ending point for my week.
Because when in Rome: After their set, I recycled my bottle of fresh-pressed juice, grabbed a cold-brew to go from my favorite Austin coffee spot, and went home.
As usual, people were still partying in my wake, making the most of their time on earth. I guess we had all learned something from our experience. But even if some people hadn't, even if they were just partying on into the night because partying was what they knew how to do best, it seemed like everyone had a good damned time.
Final Thoughts: Even though it was often frustrating, could be frequently obnoxious, and drained a body's energy quicker than my Android sucks battery life, South By Southwest was pretty awesome. I am SO doing this again next year. Probably still sans badge and maybe with a fuller schedule. But hopefully with all 10 functional fingers and long after a total recovery from pneumonia.
-Joy/@paleotrees