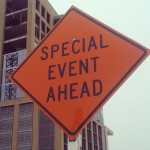 While I cannot be in Austin this year, NTSIB friend Joy is, and she has graciously agreed to be a roving reporter. Below is her first dispatch. If you want to follow her adventures live, you may do so on Twitter and Instagram.
This year, I am pleased to be NTSIB's correspondent-at-large in Austin. It's my first South By Southwest, and I have thrown myself directly into the deep end. Swim along with me here on the blog, with live updates on Twitter!
Since SXSW can be an impenetrably overwhelming mess of day parties, showcases, special sessions, and free shows, I've sorted the wheat from the chaff according to my own personal preferences. In reverse order, here are my most-anticipated acts of 2014.
7. Deap Vally
They're loud. They're crass. They're women. And they crochet. This Los Angeles duo has found success in the UK and is on the verge of making it big in America. NTSIB friend Geordie McElroy describes them as "two-thirds of a girl gang" who should be "basically every teen girl's role models", and I am inclined to agree. Enjoy a sample of their balls-to-the-wall sound with "Hobo Playa", off their single … Continue reading