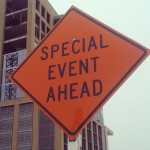 The sixth and final installment, in which our intrepid reporter won a prize, enjoyed some fine audio engineering and also photographed a clean and tidy toilet. It was apparently that kind of day.
Last post I wrote about youthful energy and the fact that SXSW will truly kick your ass. Despite the fact that I'm somewhere just south of 30 myself, I was well and truly dragging by that Saturday. Forget making it downtown by noon: I called it a success that I was out of bed and dressed in real clothes, much less getting coffee near the day's first venue, by 1pm.
Though it helped to know I was on my last day of festivities, it helped even more that I was seeing Kan Wakan again. As much as I'd liked the band before SXSW, I grew to like them expontentially more after seeing them a few times. That's something I find hard to say about many bands, much less fairly new bands which have been thrown into the pressure cooker of a festival.
Like most performers, Kristianne Bautista is appreciative of as much support as fans can offer and will openly admit to stage jitters, … Continue reading