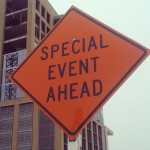 Our intrepid reporter has been somewhat delayed by travel and technology, but has continued undaunted. Below is her report from her first show-filled day.
After spending numerous protracted coffee breaks trying to figure out the SXSW schedule, I finally hiked deep into the heart of No-Man's Land — past the endless blocks of band parking, through a sea of Econoline vans and long-haired skinny-jeaned men lugging instrument cases — to The Echoplex SXSW Throwdown at Red 7. The bill featured a number of up-and-coming Los Angeles bands, but I only had ears for my new musical supercrush: Kan Wakan.
Determined to stake out a spot in front, I arrived early. But I needn't have worried: Brandon the Swag Man still had a whole table full of free swag and the venue was far below capacity. Only a few hardcore festival-goers lingered in the courtyard, and I ran into singer Kristianne Bautista practically right away. She, too, was recovering from a fever and general travel fatigue, but was excited to meet a new fan. We chatted about her band's rising fame while they set up, since a seven-piece act needs a little extra preparation.
Unfortunately, that … Continue reading