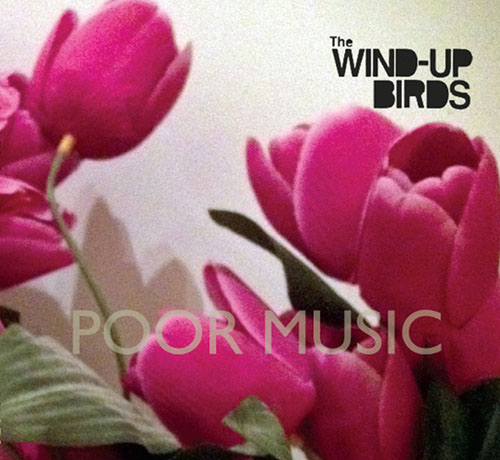 When I retired from NTSIB, I threatened to return with the release of the next album from the Wind-up Birds, the Leeds four-piece whose first full-length album, The Land, was dropped into my lap in 2012 and reminded me of why I started this blog in the first place. Well, Poor Music, which comes out on May 27th, gives me 17 tracks worth of fantastic reasons to make good on my threat.
They killed off all our favourite TV characters
So we became TV characters
We started off subtly by giving stupid answers on quiz shows
But then, we just took the whole thing over

And the musicians tried to keep selling us their past
So we trapped them and beamed them up
Into an infinite loop of knowing references
And made them perform their best album, in order, for ever
Opening with the power drill riff of "There Will Be No Departures from This Stand", Poor Music asserts that, no, the Wind-up Birds are not going to start taking it easy on you now. Like The Land's opener, "Good Shop Shuts", "There Will Be No Departures […]" calls us all to examine ourselves and our actions, and we can only nod in resignation as Kroyd points out all-too-astutely that "…we agreed that compassion was just one of life's luxuries."
But Poor Music reads less like a lesson book and more like a short story collection full of uncomfortable, and sometimes disturbingly familiar, situations, ranging in scope from global to personal – stories populated with characters, wandering in and out of scenes, who are sometimes allegorical, sometimes representational, sometimes biographical, and the lines blur between them. In "Addis Ababa", the story of a young child's sartorial mishap on a school field trip calls into question not only the real aim of the sometimes bizarre practices of educators but also the act of conforming that we seem to be called on to do from birth until death.
Like in the best books, the ones that stay with you, some of the characters of Poor Music will tear your heart right out, like the "non-gender-specified teen" of the three-part "Glue Factory" suite that is interspersed throughout the album, whose affecting story plays out against a sparse arrangement of organ chords as you watch the teen being torn down by growing up. Then there is the narrator of "A Song or Two" whose candid, raw chronicling of his madness spiral left me, for one, reeling from the too-close-for-comfort familiarity. (A personal thanks to the band for following up "A Song or Two" with the relief of "The Wind-up Birds Songwriting Workshop" dance party – which you can hear as a part of this month's Feel Bad For You mix.)
But even the best book lacks Poor Music's biggest delight: the compelling, sometimes surprising, music. The sounds of Poor Music are bigger, brighter, more varied, and often more aggressive than those of The Land. I've already talked about the music of "Glue Factory" and "The Wind-up Birds Songwriting Workshop", and songs like "The Gristle" and "Guy Ritchie" (both personal favorites) grab you by the neck and gleefully shake you around. The band continue to hone their chops to the point where individual moments will stick with you just as much as overall songs – Kroyd's startling rage on "A Song or Two", Oli Jefferson's loose and funky drumming on the title track, Ben Dawson's carousel-like (up, down, and around) bassline on "Two Ambulance Day", the insistence of Mat Forrest's sharp-edged guitar (with help from Ben Dawson on additional guitar) that grows near-transcendent through the last half of "Guy Ritchie". (There are a ridiculous number of great guitar riffs on this album, really.)
I could go on about this album, but then I'd be writing a book myself. So why don't you just tuck in yourself and discover the joys that I haven't even been able to touch on in this post? You can download the single of "The Gristle" (with special non-album B-side "The Fun Never Starts") right now and pay what you want, and you can pre-order the full album.
Additionally, the album is so good that it requires two launch shows, the first in London on release day, May 27th, and the second in Leeds on May 29th.
The Wind-up Birds Official Website