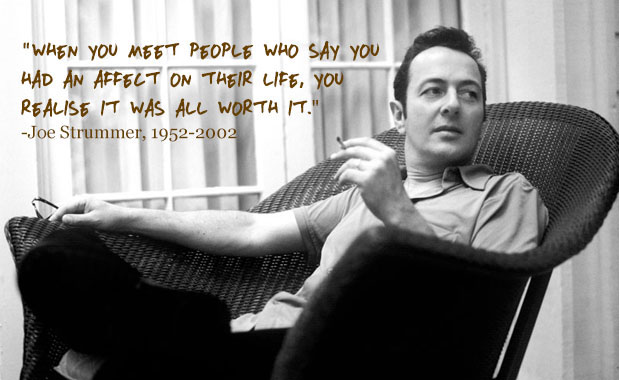 Watch this video on YouTube
Joe Strummer, who we take as our patron saint here at NTSIB, died 11 years ago today. The above song, "Mega Bottle Ride" by Joe Strummer & the Mescaleros, ends with the line "And it's time to be doing something good", and it seems to me that one of the best ways that anyone can pay tribute to Joe is by doing good in his name.
A lovely example of that ethos is the Tumblr blog "What Would Joe Strummer Do?" A recent post on the blog itself beautifully sums up what's going on there.
letsagetabita-rockin asked: Hello, Joe. Do you like the idea that there's someone who lets people ask them rather serious questions on the internet and answers them as if they were you?
This blog was started as a fun project, a bit of punk-rock silliness we could share with others. We didn't expect serious questions, but we got them – and now, those questions are the reason we keep doing this. If people stop asking us questions, we'll stop answering.
In the meantime, there are … Continue reading