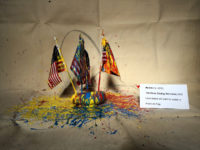 Mumblr are from Philadelphia, and whatever else I could say about them, here's the most important thing: they're never boring.
Their latest record The Never Ending Get Down has a few less jagged edges than their first (Full of Snakes, 2014) and feels more . . . contemplative, I guess. Like it's the kind of thing you could put on while staring at the ceiling waiting for the spins to wear off, or setting up for your Very Adult and Also Punk Rock Dinner Party.
Here's what I like about it: it's still familiar Mumblr-style punk noise, but it's layered and nuanced punk noise, periodically punctuated (illustrated?) by contrasting rock riffs.
It's streaming on their bandcamp and also Soundcloud, and you can listen to it below. Meanwhile, the band themselves are on an extended tour, and if you're in the upper MidWest, check their dates and see if you can go and experience them live. It will be a face-melting good time, I promise.
The Never Ending Get Down by Mumblr