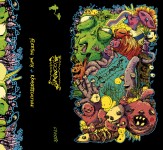 Blooming, the new compilation from Fleeting Youth Records, is 33 songs/90+ minutes of occasionally fuzzy goodness. There really is something in there for everyone. Here are a couple tunes to whet your appetites:
Simple Syrup by Lurve: deceptively sweet, surprisingly heavy on the bottom end.
Sloppy Joes by Vomitface (nice name, guys): perfect for if you enjoy a good heavy metal headbang two-step but cannot be having with ogre roar. I'm swaying slowly in my chair as I type.
Philadelphia by Mumblr: Because they are my faaaaavorite, okay, and I'm more fond of this song than the city it's about. They've written an anthem for one complex, gritty, sometimes ugly place but it's universally applicable: your place might be a hot mess but it is your place, where-ever it is.
Tidal Grave by Assault Shaker: This one has, I think, I little bit more of a pop-industrial edge, what with the opening sample and droning vocals. But it's good stuff.