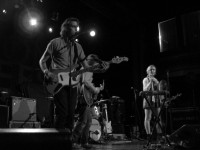 In The Dark is a new short film by Michael Runion (JJAMZ, solo) and Kristen Kassinger.
My thoughts after watching it: 1) Oh yeah, Spin the Bottle as an adult is just the worst; 2) someone always has to be That Guy during potentially mortifying kissing games; 3) they have packed a lot of thoughts about the concept of "intimacy" into under four minutes.
Anyway, it is quite good, and you should watch it:
IN THE DARK from michaelrunion on Vimeo.