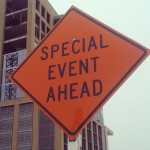 Our intrepid reporter goes to see some (more) live music. Also a mechanical bull.
On Thursday, I woke up to more than a dozen text messages asking if I was okay. Until I saw a news story about the night's fatal accident, I had no idea why so many people would be concerned and wondered if I'd been sleeping for more than one day.
Once I read about what had happened, I debated skipping the day's festivities out of respect, but eventually came to a conclusion: those who could party should get on with the partying in honor of all those who cannot party. I waited for the downtown bus with a spirit of gratitude.
That spirit started to fade after three city buses, from two different routes, passed our stop with partygoers packed inside to legal capacity. Everyone who could party definitely seemed to be partying, and I found myself wishing they had timed things a little more conveniently for us old people.
The bus ride, when I finally got one, was appropriately interesting.
I made it downtown just in time to miss several shows. While trying not to miss the final Doe Paoro show of … Continue reading