Today's Strummer week post covers Joe Strummer's sideline career in films. While Joe composed film scores and wrote songs for films, he also appeared in a few of them. The first was 1980's Rude Boy, a film conceived by the Clash's manager Bernie Rhodes, likely in a chess move response to frenemy Malcolm McLaren's film project for the Sex Pistols, The Great Rock 'n' Roll Swindle. While the main attraction of the film is live footage of the Clash, a story involving "roadie" Ray is woven in. The success of the film is debatable, and while it is a must-see for hardcore fans, the band ended up hating it in the end.
Rude Boy excerpt

Joe's next foray into film would be his own creation Hell W10. Written and directed by Joe in the summer of 1983, the black and white gangster film featured members of the Clash as well as their friends and business associates. The film was thought lost until, as the story goes, a rough copy was purchased out of the back of a car by a pair of fans. The found film was given a Clash-driven soundtrack and can be found on The Essential Clash DVD.
Hell W10 excerpt

While Joe does not appear in this clip, he does show up in the film as a police officer, as shown here: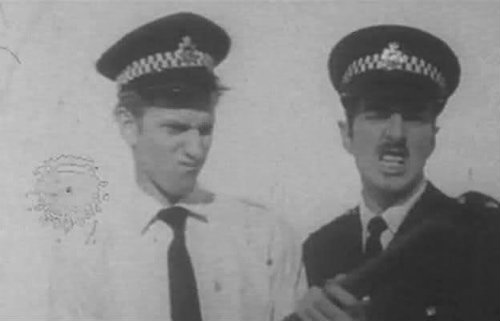 Joe and members of the Clash, along with friends, also appeared in Martin Scorsese's King of Comedy in 1983. And "appear" is about the only word for it. The eagle-eyed can spot Joe, Mick Jones, Joe's then-partner Gaby Salter, and Clash manager Kosmo Vinyl can be spotted in the background of a scene between Robert De Niro and Sandra Bernhard. The scene has been kindly slowed by an obsessive Clash fan.
King of Comedy excerpt

1981 – NYC TIMES SQUARE - – THE CLASH playing "Street Scum" in the movie KING OF COMEDY
Scorsese and the members of the Clash got along well, and the band was Scorsese's initial choice to provide music for his years-in-the-making film The Gangs of New York.
Joe's next role would be his first without the Clash. In 1987, he co-starred in Alex Cox's absurd western Straight to Hell. It takes a rarefied mind to enjoy this film – and by that I mean, it's terrible, but in a very enjoyable way. See how many familiar faces you can count in this video.
Straight to Hell excerpt

There is a featurette included on the Straight to Hell DVD that is filled with interviews with Alex Cox and cast members, including Joe. You can watch it here.
Joe's next film appearance was in a bit part in another Alex Cox film Walker, for which he also composed the score. The film can be watched here. But good luck spotting Joe as he's virtually unrecognizable with a full beard and long, shaggy hair.
In 1988, Joe had another bit part in a Rober Frank film called Candy Mountain, which included appearances from Tom Waits, Dr. John, Arto Lindsay, David Johansen, and more. I didn't find any clips with Joe in them, but someone has put together a reel of Tom Waits' role in the movie.
Next comes Joe's best role – and I'm not just saying that because it's one of my favorite films by my favorite director. Joe played "Johnny" in the last segment of Jim Jarmusch's Mystery Train, a rockabilly Englishman who has just been dumped by his woman and ends up having an insane night in Memphis with his friend Will Robinson, played by Rick Aviles, and his brother-in-law Charlie, played by Steve Buscemi.
Mystery Train excerpt

Director Sara Driver (who also has a bit part in Mystery Train) has said of Joe, "He was interested in being an actor. He was a very good actor, and I never understood why more people didn't put him in things. He had a wonderful presence."1
In 1990, Joe played a very natural role in Aki Kaurismäki's film I Hired a Contract Killer, a singer in a pub.
I Hired a Contract Killer excerpt

In 1997, Joe appeared in (and contributed music to) a French short called Question d'honneur, which featured boxer Jake LaMotta. There are no clips of Joe available, but a trailer for the film can be viewed here.
Joe's last film role was in another French film, Docteur Chance from filmmaker F.J. Ossang. Joe played an arms trafficker named Vince Taylor. The observant among you will recognize the name: there was a rockabilly singer named Vince Taylor, and the Clash covered his song "Brand New Cadillac" on London Calling.2
About a Q&A he did with F.J. Ossang after a screening of the film, Joe said, "And they went so, perhaps you could tell us what the film's about. I had no fucking idea what the film was about! I was trying to get hold of it as it was. Then I felt, this is the proper behavior for a rock 'n' roller – to get involved in this type of thing."3
Docteur Chance trailer

---
1 from Chris Salewicz's book Redemption Song: The Ballad of Joe Strummer
2 According the Chris Salewicz in Redemption Song: The Ballad of Joe Strummer, the real Vince Taylor had been approached to play the part before his death in 1991.
3 from an unpublished interview conducted by Judy McGuire for Punk magazine