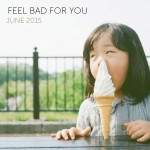 Fine, so it's nearly July, but this summer-themed mix by the FBFY bedraggled crew of music lovers will be good for a couple of months yet. Drunken comments are encouraged.
"Feel Bad for June! Just in time for the first New England heat wave of 2015, and my bum is sticking to my vinyl chair. Ahhh summer! Long hot days, warm breezy nights. Sitting in your overly air conditioned office all day, wishing you were at the lake. Being an adult sucks.
Thanks to our main man Phil for the killer artwork!"
1. "It Must Be Summer"
Fountains of Wayne
Utopia Parkway (1999)
Submitted By: @philnorman
Comments: It must be summer, because I'm falling apart.
2. "This Summer"
The Royal Sea
The Royal Sea (2011)
Submitted By: The Mad Mackerel
Comments: The Royal Sea's album was a particular favourite for us in 2011, although never seemed to get the acclaim we thought it deserved. A beguiling mix of … Continue reading