A new FBFY mix is live, and I'd personally like to thank our FBFY commander-in-chief for not choosing a Valentine theme this month.
"…and we're back! I considered and then threw out a number of ideas for different themes and went with goulash (def: an eclectic and uncoordinated mixture of something). What a mixture we've got! We are spanning quite a few genres and yet it works! Thanks to Matt (@truersound) for this month's artwork."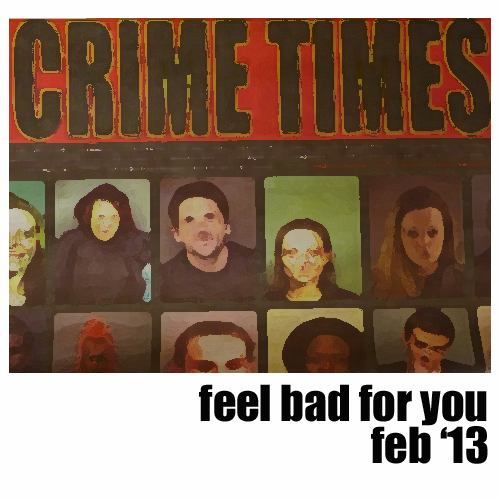 Title: Cleaning Out My Closet (Eminem cover)
Artist: Angel Haze
Album: Classick (2012)
Submitted By: @tincanman2010 (http://tincanland.wordpress.com/)
Comments: NSFW! wtf, rap on FBFY? Yeah, deal with it bitches. Eminem broke through rap's colour barrier and Haze threatens to shatter it's gender ceiling, so a cover seems appropriate. Similar styles, too

Title: 1965 (Duas Tribos)
Artist: Legião Urbana
Album (year): As Quatro Estações [2007]
Submitted By: hoosier buddy
Comments: First, thanks go out to my last.fm friend Vitória for turning me on to this album. This song reminds me a little of The Refreshments circa 1996 – and also reminds me walking barefoot on hot beach sand, driving too fast in cars with bench seats, the big knobs on Silvertone guitar amps, Sandy Nelson of Superdrums! fame, first kisses, cool water when you're super thirsty, and Deputy Dawg's hat in the episode titled "National Spoof Day".

Title: King's Flashlight
Artist: Elliott, Rose, Da Costa
Album (year): CA TX NY Vol. 1 (2012)
Submitted By: @philnorman
Comments: An indie-songwriter supergroup kicking out a catchy jam
from Raina Rose. The whole 6 song EP is fantastic.
http://store.thefamilyrecords.com/products/ca-tx-ny-vol-1-ep

Title: Pale Rider
Artist: Heavy Horses
Album (year): Murder Ballads & Other Love Songs
Submitted By: Bryan Childs (ninebullets.net)
Comments: The Heavy Horses are the band I am currently and completely crushing on.

Title: Abandoned
Artist: Phil Norman
Album (2010): Four Februarys
Submitted By: @popa2unes
Comments: Well there's February, a short month it will go by like that, then there's March with cxcw in the middle of it which will go by too fast, really it's almost spring. There's this guy Phil Norman, who does this February Album Writing Month (FAWM) thingy 14 songs in 28 days so there is sure to be some great new tunes coming from him, you may have heard of him and or it, He's also in the excellent band called Blue Moonshine which rumors are they are close to releasing some new material which mayhaps will coincide with cxcw? Anyhoo I have a playlist on my Ipod with this song from Four Februarys '07-'10 in it and when it comes on I have to hit repeat, I dig it so much. Hope you enjoy it to, and follow along this year's FAWM and nudge him and the band about cxcw, They're on twitter and stuff.

Title: Manchester
Artist: Kishi Bashi
Album (year): 151a (2012)
Submitted By: TheOtherBrit
Comments: Stepping out of my Southern band box for this earworm that I discovered thanks to the end of the year lists. Though technically, still from the South.

Title: This Boy Is Exhausted
Artist: The Wrens
Album (year): The Meadowlands (2003)
Submitted By: Ryan (Verbow @ altcountrytab.ca)
Comments: I think this is at least the third Wrens song I have submitted to this comp. I can't help it – I love the heck out of them and keep dreaming of a day when they actually release some new material. 10 years is a long time gone, but I digress – this is just a great example of a rock and roll song, about the tedium and glory of playing in a band and playing live. Crank it up.

Title: Lay Down
Artist: Alberta Cross
Album (year): Daytrotter Session, 2KHz, 1/3/2013
Submitted By: BoogieStudio22
Comments: Damn! I like these guys. Daytrotter Studios seems to be regular stop for these guys and they trotted out a new session in early January. I'm lovin' this song right now. I keep meaning to buy some Alberta Cross, but never get around to it. I will buy one of their albums this month!

Title: Born to Ruin
Artist: Wildlife
Album (year): …On the Heart (2013)
Submitted By: April @ Now This Sound Is Brave
Comments: I was introduced to this Canadian band on Daytrotter's Barnstormer 5 tour, and they were so brilliant that they overshadowed nearly all the other bands for me. "Born to Ruin" is the lead single off their second album, which is due out in early March, and when I first heard it, I couldn't stop playing it. Their big drums, big vocals, and big heart keep getting me.

Title: "I See a Darkness"
Artist: Bonnie "Prince" Billy
Album (year): Now Here's My Plan EP (2012)
Submitted By: Beldo or @TheSecondSingle
Comments: Will Oldham remakes his own classic as a spirited '70s-style country rocker.

Title: I Still Write Your Name In The Snow
Artist: Chet Atkins
Album: Almost Alone (1996)
Submitted By: toomuchcountry
Comments: Ahh, love is in the crisp air of winter – and apparently soaked into the new fallen snow. While listening to these romantic lyrics as sung by the original Certified Guitar Player, just remember to pay heed to Frank Zappa's advice.

Title: Victoria
Artist: The Kinks
Album (Year): Arthur Or The Decline And Fall Of The British Empire (1969)
Submitted by: Erschen
Comments: Been on a Kinks kick lately and really love this overlooked gem.

Title: Night Train
Artist: Oscar Peterson Trio
Album (year): Night Train (1962)
Submitted by: Gorrck
Comment: Old school jazz. Go pour yourself a cocktail and enjoy. NOTE: Not to be confused with GnR's "Night Train"

Title: Ape of Dorado
Artist: Dorado
Album (year): Anger Hunger Love and the Fear of Death (2013)
Submitted By: Mad Mackerel Music Blog
Comments: Dorado is our first great discovery of 2013. Dorado is one Jody Nelson. Dorado is sonic chaos. Dorado is musical mayhem. Dorado is somehow simultaneously disjointed and perfectly cohesive.While its roots might nominally be in southern rock, there are plenty of other forces at work here – psychedelia, folk, country-noir, art-rock, straight-up indie – the musical cauldron bubbles and seethes with every imaginable ingredient. This track, Ape of Dorado dips into a rockabilly rhythm, gives that up as a bad job and heads helter-skelter into scrappy indie rock, but does it all brilliantly. Dorado is what we imagine Heath Ledger's Joker might have on repeat on his iPod.

Title: Funtimes In Babylon (Demo)
Artist: Father John Misty
Album (year): Fear Fun Demos 2012
Submitted By: Sandy @ Slowcoustic
Comments: Last year's album Fear Fun from Father John Misty was one of the albums I was most interested in (due to my appreciation of J. Tillman's previous work). It ended up being one of the year's best albums in my opinion and quite frankly surprised me. So then, how about the cross between the older more acoustic J. Tillman and the new indie crooner Father John Misty? The acoustic demo for the opening track of the new album seems to be just that spot.

Title: Love Reign O'er Me
Artist: Pete Townshend
Album (year): The Quadrophenia Demos 2 (2012)
Submitted By: Simon
Comments: This track sounds better every time I listen to it, a wonderful version of a classic Who song from the soundtrack to Quadrophenia, released on a 2012 Record Store Day limited edition 10″ and the Director's Cut box set.

Title: You Gave Your Love To Me Softly
Artist: Weezer
Album (year): Angus (Soundtrack) (1995)
Submitted By: annieTUFF
Comments: Man, I completely froze on song choice this month….BUT I've been revisiting my love for Weezer lately, so here you go FBFY.

Title: Answering Machine (home solo demo)
Artist: The Replacements
Album (year): Let it Be (orig. 1984, Deluxe Edition 2008)
Submitted By: Rockstar Aimz
Comments: Went on a "Let it Be" bender this weekend. I think I like this song better than "I Will Dare," and that song is genius.

Title: Girlfriend
Artist: Slim Dunlap
Album (year): Times Like This (1994)
Submitted By: @scratchedsoul
Comments: Slim was the guitarist in the Replacements after Bobby Stinson left the band. In Feb 2012 he had a pretty massive stroke which sucks. This is a song off his 2nd (and last) album. He played solo in Boston one night on this tour and at the end of his set he said he needed someone to drive him to Cleveland after the gig. If you did he would buy your plane ticket home. I wish I could say I volunteered, but I didn't. Regrets. There's a fund set up to help defray costs. More info here http://songsforslim.com

Title: What is the Color of the Soul of a Man
Artist: Jimmy Driftwood
Album: Voice of The People (1963)
Submitted by: Truersound
Comments: Picked this record up recently and it proceeded to blow me away, this song in particular. Then found out it was released in 1963…wow

Title: Anymore
Artist: Jonathan Warren and the Billy Goats
Album: Just Relax, Honey (2009)
Submitted by: BoogieStudio22
Comments: Yeah… I added a second song. So what? This band sent us (FBFY) a little press release with some videos. So I say "What the heck, I'll watch the videos":

http://www.youtube.com/watch?v=u1hmOMKCd5M
http://www.youtube.com/watch?v=48ZKos2D9Wg

I liked what heard (a bit of folk, indie, alt-country, americana, etc…) so I headed over to their site (http://www.jonathanwarrenmusic.com) , sampled the songs and bought their two albums. They are operating on the ' pay whatever you can afford' principle, so if you like what you hear and pick up their albums, throw some money their way… like I did. Oh… and they were recently featured over on @pop2unes site too.