I don't have a horse in this race this month, but I can't deprive you all of the goodness that is FBFY just because I blanked on a contribution.
"Feel bad for September? No way! It's football and chili season! First, thanks to AnnieTUFF for the cover art. Second, for the first time in the history of FBFY mixtapes (I think) two people submitted the same track (see #7). Third, notice how loaded TinCanMan was when he submitted his track (# 14). That's what I like to see! Let's get some drunken commentary on this mix, pronto!"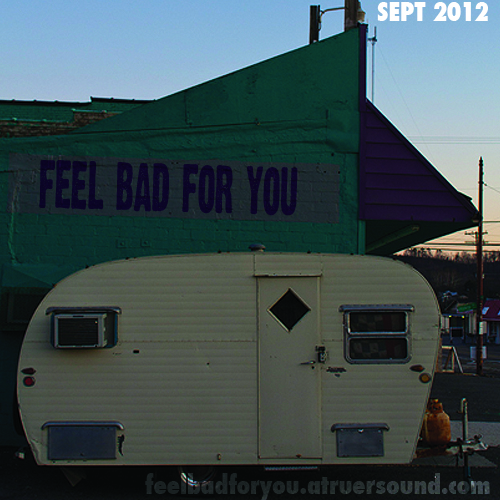 1. Title: Young Blood
Artist: Black Pistol Fire
Album: Big Beat '59 (2012)
Submitted By: @mikeorren
Comments: Saw these guys open for The Scabs in Austin a couple months back and thought they were great. Songmanship takes a jump in their new album– first time I heard this, I swore it was an old favorite.
2. Title: Everybody's Devil
Artist: Some Dark Holler
Album: Hollow Chest (2012)
Submitted by: Corey Flegel – This Is American Music
3. Title: One Time Thing
Artist: Michael Chapman
Album: Rainmaker (1969)
Submitted By: Truersound
Comments: Had the joy of meeting the man and seeing him perform at a private party recently. He sat on the porch with an amped acoustic, no vocals….and proceeded to blow us all away.
4. Title: Miénteme
Artist: The Moonstones
Album: Fuzz, Farfisa y Fiesta (2011)
Submitted By: BoogieStudio22
Comments: These guys started following me on twitter. I found their Bandcamp site (http://themoonstones.bandcamp.com/) and was floored by their retro 60s sound. Instant fan! About half the songs are in Spanish, the other half in English. I finally found a label in Australia where I could buy their CD (and got a couple of samplers too).
5. Title: Wanted
Artist: Town Hall Brawl
Album: demos (2010)
Submitted By: hoosier buddy
Comments: "I remember when called me up, asked me out to the laundromat, playin' pool on the dry cycle, can't have more fun than that. Never told anyone your secret, even though I know you told mine. I could never do that to another; some things should always be protected."
6. Title: There's More Pretty Girls Than One
Artist: Ricky Skaggs & Tony Rice
Album: Skaggs & Rice (1980)
Submitted By: @philnorman
Comments: Been doing more duo gigs lately, and there's not many better bluegrass duo records to study than this one. Also, girls are pretty.
7. Title: Like A Drug
Artist: Sallie Ford & The Sound Outside
Album: Dirty Radio (Deluxe Version) (2012)
Submitted By: Bryan Childs (Autopsy IV)
Comments: Ding a ding dang my ding a long ling long.
Also Submitted By: @popa2unes
Comments: I'm Hooked
8. Title: Define A Transparent Dream
Artist: Olivia Tremor Control
Album: Music From The Unrealized Film Script Dusk At Cubist Castle (1996)
Submitted By: Ryan (Verbow at Altcountrytab.ca)
Comments: RIP Bill Doss.
9. Title: Missing You
Artist: Chris Knight
Album: Little Victories (2012)
Submitted By: Simon
Comments: Not made a bad album Mr Knight and his new one is no exception, best of the plugged in releases so far for me.
10. Title: Coax Me
Artist: Sloan
Album: Twice Removed (deluxe reissue) (1994)
Submitted By: @scratchedsoul
I loved Sloan when they first came out, but then I hated this record when it was originally released in 1994. It's absolutely grown on me over the years. I always loved the line 'I think Consolidated's OK, It's not the band I hate, it's their fans.' That line definitely applied to Consolidated at the time and has applied to many bands since.
11. Title: For A Time
Artist: Guster The Face Buster (G.F.B)
Album (year): G.F.B (2011)
Submitted By: annieTUFF
Comments: Well, is it that time again? September? Already? The start of fall is upon us? We could still go to the lake right now and take a dip during the middle of the hot day, but by the end of the month I bet we'll be wearing sweaters and eating only foods made with pumpkin. Is the pumpkin thing just me? Maybe… Anyway. Back to music. Part of fall is feeling a little bummed, summer is ending, stuff is dying, its starting to get darker in the morning, but you've got to embrace those feelings…and then punch them in the face. So, this month I'm embracing the bummer. Next month I'll continue my fall tradition with the punching my bummer in the face. For now, I'll introduce you to my brother…Guster The Face Buster.
12. Title: Bible on the Dash (featuring Hayes Carll)
Artist: Corb Lund
Album: Cabin Fever 2012
Submitted By: Rockstar Aimz
Comments: Corb Lund and Hayes Carll (and Todd Snider) are among the few songwriters still following the long tradition of using humor in country music. This song is one of the highlights off of Lund's new album.
13. Title: New York
Artist: Sex Pistols
Album: Never Mind The Bollocks (1976)
Submitted By: Bowood
Comments: this popped up on my iPod, the whole album is just a middle finger to everyone and everything.
14. Title: Best Song Everrr
Artist: Wallpaper
Album: Ultimix 181 (2011)
Submitted By: tincanman
Comments: I'm jush wanna say I love you FB…FMB…shit…FBFUCKY peoples. Yesh, I've had a few brwskiiiiiiiiiis ha haha, but thatsh not it. No, I shwear, I just love you. all. Video is the NSFW version: https://www.youtube.com/watch?v=pr7pEzgW_7Y
15. Title: Storms (Fleetwood Mac cover)
Artist: Matt Sweeney & Bonnie "Prince" Billy
Album: Just Tell Me That You Want Me: A Fleetwood Mac Tribute (2012)
Submitted By: TheSecondSingle/Beldo
Comments: My love for soft rock is no secret to those on ACT. This earnest, stripped down cover by one of my favorite duos brings out the beauty and songwriting perfection that has made so much of Fleetwood Mac's material age so well (and shine through the admittedly dated production). Now if Matt and Will would make a follow-up to Superwolf…
16. Title: If Money Talks
Artist: Jason and The Scorchers
Album: Rockpalast – Hamburg Germany (1985)
Submitted By: toomuchcountry
Comments: I couldn't let the recent passing of Scorchers' drummer Perry Baggs slip by without some sort of trib. Two songs written by Baggs – White Lies and If Money Talks – were also two of the most iconic for the band and were staples in their setlists. R.I.P. Perry.
17. Title: Take The Fall
Artist: Elliott Randall
Album: Take the Fall (2007)
Submitted By: Cowbelle www.morecowbelle.net
Comments: New favorite SF Americana artist
18. Title: Calgary (Live at Triple J Studios)
Artist: Bon Iver
Album: Live at Triple J Studios (2012)
Submitted By: Slowcoustic
Comments: I know the crowd around here doesn't always give the time of day to Mr. Vernon but I thought I would be the softie who provided a Bon Iver track to FBFY. I like this version of Calgary as it is one where Bon Vernon uses his actual speaking voice to sing and leaves a lot of the 'signature' falsetto-style singing out of the equation. And I live in Calgary…so, there is that.
19. Title: I Am The Cosmos
Artist: Chris Bell
Album (year): I Am The Cosmos (1992)
Submitted By: Trailer
Comments: If you don't like this song, I probably don't like you (much).