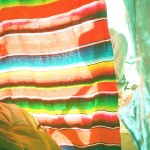 Chill Out Drown Out: music for when you need to, well, chill out, and also drown out extraneous noise. Tunes for calming down and concentrating on important tasks or just having a peaceful time in the middle of a hurricane of a day/week/month/year/existence.
I occasionally feel bad when my highest recommendation for something is "this is excellent background noise," but – it is truly one of the finest accolades I can give. It means the music has successfully walked the fine line between "delicate, beautiful, but unobtrusive, integrates well into the process of multi-tasking" and "so boring I forgot the first song half-way through."
Resplendent, by In Vivid (Ben Snook, of Lawrence, KS) is indeed delicate and beautiful. The swirling textures and gently propulsive energy make it – for me, at least – ideal for tasks that require concentration and creativity. And, best of all, it stands up to repetition; I listened to it three times in a row one night last week and never got sick of it.
Here are three songs to whet your appetite, chosen at least in part because I liked the titles.
Lightswitch Indicator: The second song on the record, this one is … Continue reading