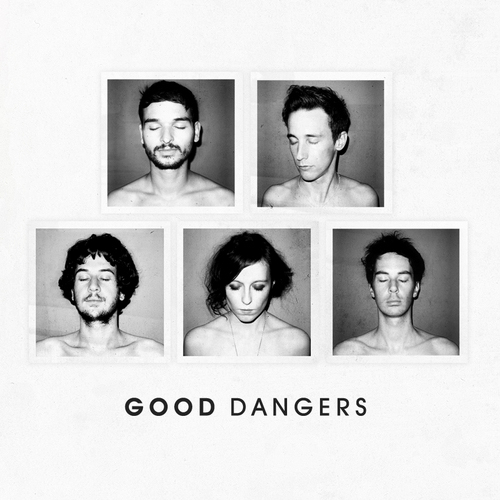 This band's information floated over our transom with the following e-note appended:
We wrote these songs in our living rooms
We recorded them
We moved to north london so it was easier
We didn't always agree
but that's ok
We made some art to go with the music
We made videos which took longer
We have all been in other bands – this is our favourite
Good Dangers is – Maxim, Gavin, Johny, Jenny & Howard
I listened to their songs and watched their video(s), and later, upon adding Abigail to my daily playlist (listen to it streaming at bandcamp), I found myself humming along and tapping my pencil to the beat while I worked. And then I took it upon myself to do some further investigation. Lead singer Gavin (top right) expanded as follows:
Naturally the first question is going to be: Which bands were you in before?
That's a bit of a secret, we like mystery.
Where did you move to North London from?
We all studied and lived south of the river after going to Goldsmiths College, gradually we migrated north/east so we could write and play easily. It's good times in that part of London.
Why did you name the new band "Good Dangers"?
The music has a tension about it.  There's a lot of risk in putting music out there and giving up a part of your life to do that. We wanted to capture that in the name. Or we just came up with cause it sounded good. Can't remember.
The songs sound so light and airy, but your comment in your bio about disagreements makes it sound like getting there was hard. Was the songwriting difficult? How did you go about putting the pieces together?
Sometimes writing is painless, the songs write themselves. Other times we massively disagree. Great songs come out of both situations. You can never tell how it will play out. The only thing you can guarantee is that we will all have an opinion!
Are you all supposed to look dead in your press picture? If so, why?
No, although I agree we look a bit dead! There is something good about taking your clothes off and shutting your eyes, we can say that much.
I watched the video for Brasilia, and wow, there's a lot to unpack there, visually. I saw a lot of footage I recognized as being disaster- or crisis-related, and a lot that seemed, at least in theory, to be harmless. What was all of that mixing about, and how does it related to the song? Also was it meant to evoke Brazil, the movie?
No relation to that fantastic movie. Making that video, I used footage from growing up in Australia shot on super 8 and a bunch of archive footage that I felt summed up the themes in the song. The song is about memories and their potency.
These last ones are for everyone. What was your transformative song – the rock and roll lightning strike?
Gavin: Anything from Van Morrison – Astral Weeks; Guns N' Roses – Use Your Illusions II; Smashing Pumpkins – Siamese Dream; Ryan Adams – Heartbreaker; Strokes – Is This It and Arcade Fire – Funeral.
Howard (bottom right / bass): Anything of 'Nevermind' (I love Drain You), when that was played at parties everyone used to go more nuts than anything else.
John (bottom left / drums, brother of Howard): The entire Strokes first album
Jenny (center / keys): Anything off the Jimmy Eat World self-titled album
Max (top left / guitars): Positively 4th Street – Bob Dylan. My Dad's enthusiasm finally made sense on one long drive in Spain with the family.
What was your first show (that you attended, not that you played)
Gavin: First proper show, [was the] Smashing Pumpkins [in] London. I managed to grab a broken guitar string off Billy's guitar. I was 14.
Howard: George Benson somewhere in London with my folks. I think I was 5 years old, I spent the entire gig shoving cotton wool in my ears as it was so loud and his smooth tones really hurt.
John: The Strokes, 2003, Alexandra Palace.
Jenny: Billy Joel
Max: Echo and The Bunnymen, Royal Court, Liverpool, 1996
Good Dangers – Beat Of Your Heart
What was the first record/tape/etc that you bought? What was the last one?
Gavin: First: Mc Hammer – Please Hammer Don't Hurt 'Em /Last: Wild Nothing – Gemini
Howard: I bought REM Automatic For the People because my cousin was really into them. I love that album. Last one I bought was the new Radiohead album.
John: Power Rangers theme song in 1994.
Jenny: Cyndi Lauper, True Colours and Arcade Fire, The Suburbs
Max: Ain't talkin bout dub – Apollo 440; Zola Jesus – Stridulum II
And finally, will you be playing any shows any time soon?
Gavin: We are playing at:

March 17: Old Queens Head, Islington, London
March 24: Hoxton Bar&Kitchen, Hoxton, London
April 12: Catch, Shoreditch, London