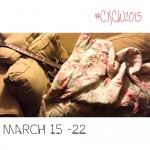 One of the many awesome things about CXCW is catching up with old favorites. I developed a deep fondness for Water Tower back when they were the Water Tower Bucket Boys and singing awesome bluegrass songs about acid tripping in San Francisco, and then I lost track of them a little bit. So I was super pleased when their video featuring their new song Town and a cover of Spaceman 3's Come Down Easy popped up yesterday. They've evolved from their bluegrass roots, though not that far – just enough to settle into a psychedelic groove.
WATER TOWER "CXCW2015" TOWN/COME DOWN EASY

Watch this video on YouTube
Water Tower will be at That Other Festival as well (multi-tasking! excellent!), and to follow their adventures, you may consult Facebook, here.
To follow CouchxCouchWest, you may consult Facebook, Twitter, or refresh the Festival page several times a day.