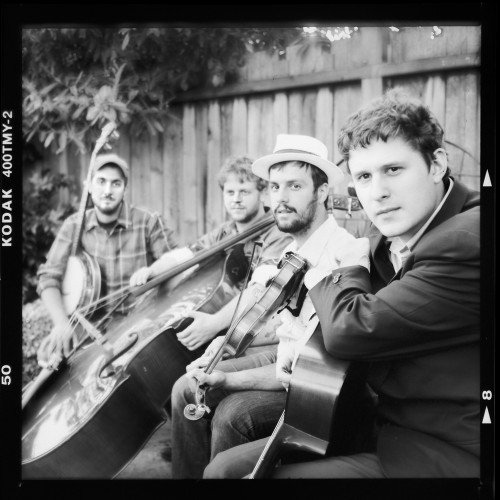 Pictures courtesy Water Tower Bucket Boys
Dear Water Tower Bucket Boys,
You had me at "we hung out and drank beer, sang Rancid songs late into the night on Telegraph Street". I am hoping a New York date gets added to your schedule soon, so we can have a proper visit.
xo
Jennifer
Dear everyone else,
That lyric I quoted above is from the aptly-named Telegraph, song number three on their fourth record Sole Kitchen, which was engineered, mixed, and produced by MxPx/Tumbledown front man Mike Herrera at Herrera's Monkey Trench Studios in Bremerton, Washington.
In addition to name-checking one of my favorite punk bands, the Water Tower Bucket Boys (say that three times fast!) also bring some serious bluegrass. There are sweet harmonies and delicate picking (Telegraph, again) fast fiddles (Blackbird Picking at a Squirrel), some good sing/stomp-along songs (Since You've Been Gone; Goatheads), and one where they sing in French (Fromage).
Readers, they are really, really good, and I encourage you to stop what you are doing and introduce them to your record collection.
Or, if you happen to be joining us today from the North-East of England in general and the outskirts of Nottingham in particular, to get out to a show, as they are on tour in your corner of the world through Sunday, September 18.
Right now it looks like after the UK tour they'll be doing a few shows in their home state of Oregon before heading out to visit portions of the American South and South West in the fall, so readers from those locations, you should also have a glance at their schedule.
Meanwhile, here they are with my personal favorite, Telegraph, from a performance at Mississippi Studios earlier this year:
Water Tower Bucket Boys @ Mississippi Studios 2/9/11 - Telegraph