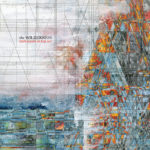 Late Night Listening: a home for things that might be fleeting, might be soothing, might be weird, might be soothing and weird. The blogging equivalent of sitting in the garage twiddling radio knobs just to see what might be out there.
The Wildnerness is the latest record from Explosions in the Sky, of Austin, Texas.
I'm filing it to Late Night Listening, but the most transcendent moment I had while listening to it came in the middle of a glorious fall afternoon. I was driving up the Natchez Trace, winding through the trees and admiring the subtle color – Mississippi doesn't really do autumn on a grand and glorious scale – when the title track came on. For four and a half minutes, everything was beautifully balanced and perfect.
The rest of the record is also pretty great. Explosions in the Sky operates in the Venn diagram of "modern classical" and "rock and roll" by which I mean they use keyboards, guitars, and drums to create tumultuous, wordless modern soundscapes that somebody, someday, will think of the way we think of Bach or Beethoven. Sometimes they shimmer, sometimes they roar, sometimes they shimmer and roar. But they are … Continue reading