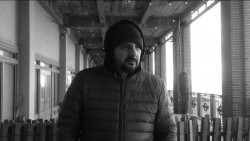 For My Own is the first release from New London Fire's upcoming record Echoes in the Dark. Stylistically it picks up where The Dirt The Blood The Faith left off – Americana leavened with an indie rock sensibility – though tonally it's a little darker. The first two times I listened to it I thought it was a mournful meditation on a lost relationship, the third time through I was like . . . hold on, is this a murder two-step?
Not a lot happens in the video, and I mean that literally, it's a little under three and a half minutes of home-movie style footage of what appears to be the back of a dude sitting on a wooded hill and staring at a lake. I spent a little bit of time wondering which lake – Central Park? one in Jersey? Upstate? – before deciding that ultimately it doesn't matter. The anonymous lake is a metaphor, for the time the lovelorn spend with their attention turned inwards. Or else it's where the narrator dumped the body.
Well, whatever the lake means, or doesn't, I definitely want to hear the rest of the record, and the story.
New … Continue reading