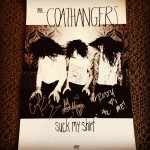 The Coathangers are a from Atlanta, and their latest record Suck My Shirt is scheduled to be unleashed upon the world on March 18.
"Unleashed" is the key word there; The Coathangers specialize in fast, kind-of-bratty garage punk and the record has taken a little while to grow on me. My favorite song on the record is Love 'Em and Leave 'Em, where they slow down a little bit, albeit only for the first minute.
This is the video for the first single, Follow Me, in which Mastodon employ some clever disguises while standing in for The Coathangers, and it's a good time.

Watch this video on YouTube