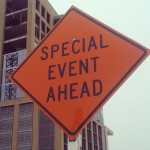 In which our intrepid reporter finds out SXSW really is as exhausting as everyone says it is, but rallies to attend more shows.
By day three, I had personally confirmed what we've all been told: SXSW kicks your ass. I managed to drag myself downtown before noon only by promising myself a cup of coffee at Mellow Johnny's, where Wye Oak was playing a 12pm set.
The band was already playing as I bought my coffee, but I couldn't tell if they were playing an old song or a new one. Like mr. Gnome, Wye Oak hasn't changed their sound very much between albums #3 and #4. Jenn Wasner has switched from electric guitar to electric bass, and Andy Stack has added an electronic drum-pad to his kit, but at SXSW they were quite recognizably the same band. Wasner even managed to make her bass sound light and silvery at times, which was the most unexpected thing to jump out at me from their performance.
Ultimately this is unsurprising, considering the lyric-based character of Wye Oak's previous records. Now as before, listeners should expect to make the music into a contemplative experience in order to really … Continue reading