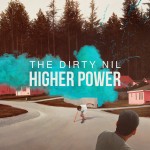 So before I started this post I skimmed back through all of my previous posts about The Dirty Nil (scrappy little band of my heart, Frozen North division) just to make sure I wasn't about to tell the same story for the third time, and here's what I realized: I maybe haven't told enough stories.
A side effect of following a band's career for a while is you get to watch them evolve and grow. The first time I saw The Dirty Nil was their first New York show, at Glasslands in 2013. It was December (and freezing) and also, like, a Wednesday, so their crowd amounted to me and four other people (all dudes) over 35 stomp-swaying (mostly swaying) appreciatively. Still, they did their best to blow the roof off.
My gut reaction was Oh yeah, this is the good stuff and Where is their pit? They need a pit.
(Answer: At home in Toronto, where from what I can tell from the internet, their shows are glorious chaos, as they should be.)
I've since seen them at a tiny filthy punk club and Warped Tour, with larger crowds for each excursion, and not only is everyone … Continue reading