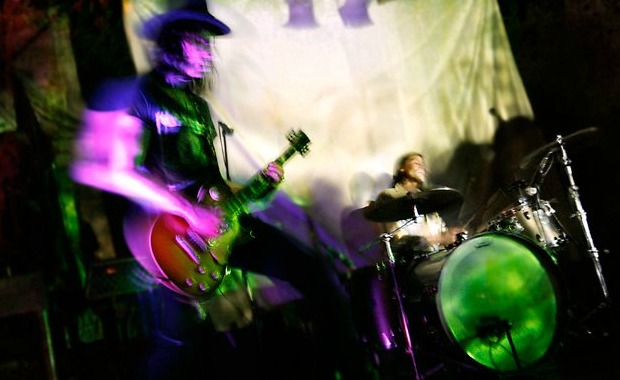 We're very pleased to have a guest review from our good friend @Popa2unes.
The Dead Exs release their CD – Resurrection, and it's a party!
By @Popa2unes and DJ Knucklehead
Photos courtesy Kristin Viens
We wandered into the Bowery Electric and walked down the steep steps to the basement with water pouring down the pealing brick walls from the torrential downpour taking place outside. Large chrome lights dangled from the high black ceilings; it was dark, dank and perfect for what was about to take place: raw, fuzzy roots rock and blues. "The Dead Exs CD release Party." We found a seat on one of the large Group W benches that surrounded the stage, and planted ourselves. There was a nice size, enthusiastic crowd Hipnik's, Hipsters, Rockers, Hobohemians and an abundance of beautiful women. I love NYC.
Bang Bang Boogaloo recording artists, The Dead Exs are David Pattillo (henceforth DP) on electric slide guitar and vocals with Wylie Wirth on the skins.
The Dead Exs bring a multitude of influences to their music from Albert King to ZZ Top. Every song seems to have a bluesy familiarity … Continue reading