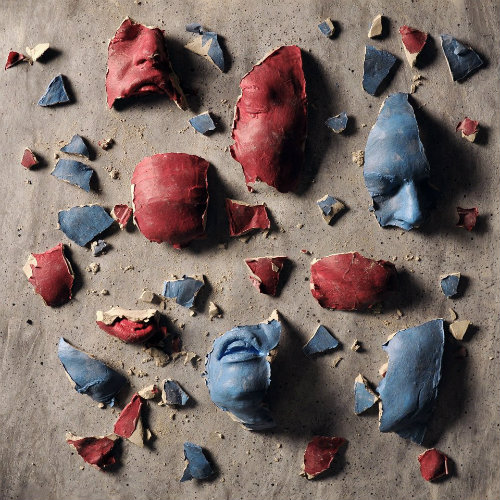 It's a simple yet sublime pleasure, and just thinking about it can make you feel a little calmer, a little more content. Imagine: You bring out one of the good rocks glasses (or your favorite mug or a special occasion tea cup) and pour a couple fingers of amber liquid (or something dark and strong or just some whole milk). You drop the needle on the jazz platter (or pull up a blues album on your mp3 player or dig out that mixtape from college). Ensconcing yourself in the coziest seat in the house, you crack the spine on a classic (or find your place in that sci-fi paperback or pull up a biography on your e-book reader). And then, you go away for a while. Ah, bliss.
In this series, some of NTSIB's friends share beloved albums, books and drinks to recommend or inspire.
---
"It's easy to forget what defines us controls our minds."
There are so many great bands from Leeds, past and present, that it seems like 80% of the English city's population must be in at least one band. So strong is the Leeds-area music scene that they can support an annual festival featuring a number of local bands – as well as national acts: the Long Division Festival in Wakefield, just outside of Leeds, (which was able recently to meet a funding goal of £6,000 in just 9 days – and they're still going). I had the opportunity to attend this superior festival last September and, in addition to seeing Leeds bands like my beloved Wind-up Birds and the now-defunct Witch Hunt, I got to see the four beautiful people who make up Post War Glamour Girls1 play the main stage. The same stage would, later in the evening, be occupied by Gruff Rhys (Super Furry Animals) and hometown legends The Wedding Present, and the young band were every bit as assured and commanding of the stage as the old pros.
After having fallen under the spell of their last full-length album, the moody, sexy, sometimes frightening Pink Fur, it's a true pleasure for me to bring the band in for our beloved regular series in the run-up to the release of their second full-length offering, Feeling Strange (Parts 1 and 2) – available officially on October 30. If you were on top of it enough to grab the limited-time free release of Part 1, which I enthused about earlier, you know there's still more magic to come.
FELONIOUS PUNK - POST WAR GLAMOUR GIRLS (HD)
Please enjoy some great recommendations from Alice, James, Ben, and James.
Alice Scott-Knox-Gore
BOOK
Tony Benn- 'Letters to my Grandchildren' this book is a deeply compassionate and optimistic explanation of the world and its workings. I love the way that Tony Benn effortlessly navigates you right to the point of past, present and future politics with a compounding faith that humans can learn from our mistakes and correct our injustices. His influence and this book has played a large part in shaping my views.
ALBUM
Cocteau Twins- 'Heaven or Las Vegas' – I could not believe what I'd been missing when James S introduced me to Cocteau Twins last year. How had I let this band slip through the net? Especially with this album, I'm like a dog with a bone. I can hear bliss and sorrow and ecstasy all at once. It makes sense that my more current listenings (Beach House, Warpaint etc) have obviously taken great influence from Cocteau Twins.
"Cherry Coloured Funk"

Cocteau Twins - Cherry Coloured Funk
DRINK
Sazerac- Whisky, Cognac, bitters and a spritz of absinthe. Goes down like nectar.
James Smith
BOOK
Andrew Marr – 'A History Of Modern Britain' – The good men and women who served this country seem few and far between after reading this. Whilst the consensus has long been that politicians are self serving scum, this book helps hammer the point home. It's a brilliant read, even if it leaves you feeling helpless. The post-war Labour government really did help the country through a genuine crisis. It remains a monumental achievement and proof that socialism can work if you leave the people and industry bankrupted by two world wars with no alternative. It's a shame seeing Labour slowly dismantle itself from the mid 60s onwards, struggling to prove its point as the country embraces capitalism, and with it, consumerism. Reading it only affirmed my hatred for the Tory party and their long continued bullying of the poor. Under Thatcher, the Neo-Liberal mentality burrowed like a tick into the mindsets of the British people. It's daunting to see how it's shaped the entire ideology of my generation, and all hereafter. Learning about this country's history has changed my view on politics. It's made me critically assess myself. It's not red or blue or left or right. I feel ashamed and I don't know what to believe in anymore. I don't want to tell people what to think… I'm not trying to be Russell Brand or anything, I just feel more confused than I did 600 pages ago… Anarchy seems more appealing each day and I'm moving to Dial House just as soon I get Christmas out of the way.
ALBUM
Rahsaan Roland Kirk – 'The Inflated Tear' – I've been having a 'Jazz' phase for the past 6 months or so simply because I've been unenthused with pop music and it's sometimes nice not understanding what I'm listening to. It just washes over me and swirls round about my head. I find I can switch off with Jazz, which is what I'm trying to do more of these days. My dad is well into Jazz and he gave me a big collection of vinyl which me and Ben originally starting ripping and sampling for our Hip-Hop project Tightcat. I began listening to find loops and found a lot to love, compelling stuff. Brilliant Corners by Thelonious Monk is great, as well the Nina Simone standards, Miles Davis' output in the 60's (Bitches Brew and all that) Sun Ra's Paris Tapes and The Shape Of Jazz To Come by Ornette Coleman. I found out about Kirk through Nils Frahm's 'baker's dozen' feature on the Quietus, where I also discovered 'musik von Harmonia' through James Holden's contribution. The Inflated Tear is such a cool sounding phrase, I'll probably nick it for something further down the line. Kirk plays three saxophones at once, but it's not Free-Jazz. He gets amazing harmony out of them and also plays this weird percussive instrument which I always thought was called a water-bell, but google doesn't seem to think that's a thing… If anyone can tell me what it's called?
"The Inflated Tear"

DRINK
Water – Have you heard the raindrops drumming on the roof tops? Have you heard the raindrops dripping on the ground? Have you heard the raindrops splashing in the streams and running to the rivers all around? There's water, water of life, Jesus gives us the water of life; there's water, water of life, Jesus gives us the water of life.
Ben Clyde
BOOK
'All The Pretty Horses' – Cormac McCarthy – What was so enticing was how McCarthy describes these stunning landscapes and situations so beautifully without drooping into the overly romantic or soppy. It's still very raw, very vivid and almost palpable. He also has this adept talent of portraying a scene by describing the finer details that would usually be unobserved and yet completely familiar. I can safely say I didn't really like horses until this book. Now I like horses.
ALBUM
'Madvillainy' – Madvillain – The zenith of hip hop's creativity? Possibly until 'To Pimp A Butterfly' recently. It blasted open the doors for me for the possibilities of both lyrics and wordplay from MF DOOM and the delicate art of looping from Madlib (both of which I'm pretty bad at ironically.) It's an album displaying the chemistry of two creative outcasts at the height of their powers with no choruses, no hooks and most tracks coming in under two minutes. On paper it sounds awful, so it needs to be listened to. In full. Over and over again.
"Fancy Clown"

DRINK
Colaweisse – Coke and Wheat Beer – Pretty simple but the reason I mention it is because no one in the city I live in seems to believe me that the Germans drink it. And it does hurt to be thought of as a liar…boohoo. I get looks from barmen everywhere like I just gave them the finger before ordering. It looks like muddy water, but it tastes pretty good.
James Thorpe-Jones
BOOK
'An Epic Swindle: 44 Months with a Pair of Cowboys' – Brian Reade – A detailed yet passionate account of the nightmare reign of avaricious owners Hicks and Gillet, at Liverpool Football Club. From instilling £237m worth of toxic debt on the club and just hours away from administration, to their redemption in the high court. At times author Brian Reade gets his axe out too frequently, however the revelations from his inside access to the club makes for an enjoyable read. A sports book for non sports fans.
ALBUM
'The Hangman's Beautiful Daughter' – The Incredible String Band – Makes for a great listening experience, storytelling from some of the best. They believed in what they were doing, and that's all that matters.
"Koeeoaddi There"

Koeeoaddi There - The Incredible String Band
DRINK
Espresso Martini – "It's about's to get weird." A good solid work out getting fresh espresso ice cold, but well worth it. Not to be paired with my listening suggestion.
---