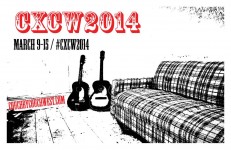 I cannot think of a better way to observe St. Patrick's Day then cutting myself a slice of soda bread, making a large cup of tea, putting my feet up, and settling in with the CXCW's second annual Irish Showcase.
You can find the whole thing here; below are a few videos to give you a taste of the excellence to be had:
First, the incomparable Tony Fitz, producer and front of house manager for Homebeat, who organized the first seven videos in the showcase, with The Murder, the first track from his upcoming record. Joining him are Gráinne Hunt and members of Red Sail.
Tony Fitz | The Murder (CXCW 2014)

Watch this video on YouTube
I don't know if there's a CXCW record for "Most Dogs Per Video" but if not, Carriages may have set one, with four, count them, FOUR happily wagging tails in this video for Pale Face which they wrote special for CXCW:
Carriages | Pale Face (CXCW 2014)

Watch this video on YouTube
Rónán … Continue reading