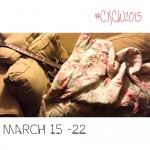 Now in its fifth year (!!!) Couch x CouchWest is once again coming to a screen near you. Very near you. Like, in your hand right now, if you're reading this on your phone. Though if you want to make a YouTube playlist of the videos and project them on the nearest wall-like surface, YOU CAN. Such is the beauty of Couch x CouchWest!
Lineup: Anyone who sends in a video. Are you a musician? In a band? You should sit down on your couch / favorite chair / front porch / elevator shaft / etc and sing a song for in the internet. It will be awesome. DEADLINE FOR SUBMISSIONS IS NOON EASTERN MARCH 21st.
Dates: March 15-21
Location: Anywhere you want. In bed, in the bath (Carefully! Make sure your device is well protected from the water!), on a train, on a plane, on the bus, you are all welcome, come join us, where-ever you are.
Survival guide: As with That Other Festival, you will probably want snacks and cold beverages and comfortable clothes. The major differences: Pants are optional, pets are encouraged, there are no lines, you'll never be shut out of a show unless your … Continue reading