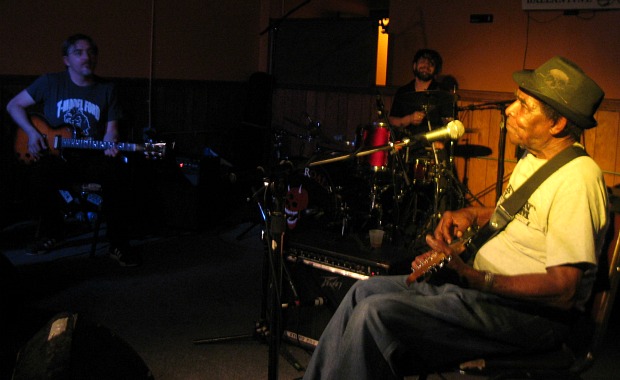 Shouting Thomas Torment
Sometimes you go to a show just hoping the opening act won't be unbearable. Then sometimes you get something like Shouting Thomas Torment.
While sometimes situated in a group, Shouting Thomas and the Torments, Shouting Thomas was doing it one-man band style at the Beachland Tavern Saturday night. He immediately lived up to his name by shouting, showman style, from the moment he stepped on stage to the moment he stepped off. In between, he thumped the bass drum, drove the hi-hat and took the guitar from fuzzed-out punk blues to rockabilly twang, shook it all together and broke it all down. The set kicked off with "Struggle (Scratch That Itch)", hit on a number of highlights like "Slave for My Cave", "All Grown Up Wrong", "Trouble Doll" and "Swamp Witch", and closed out with "Shakey Shake #1". There was also a Bo Diddley beat and a very respectable imitation of a chicken on the guitar.
(Shouting Thomas also made sure to mention a couple of 45s he had for sale: "Slave for My Cave" on a split with Wolfboy Slim and "Black Cat Bone" b/w "Trouble Doll".)