A Good Read, a Good Listen, and a Good Drink: Firewater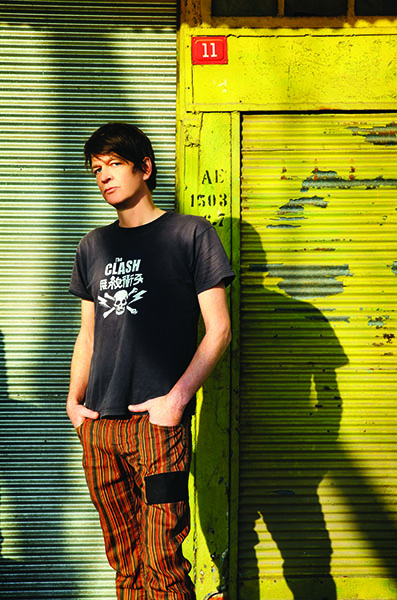 It's a simple yet sublime pleasure, and just thinking about it can make you feel a little calmer, a little more content. Imagine: You bring out one of the good rocks glasses (or your favorite mug or a special occasion tea cup) and pour a couple fingers of amber liquid (or something dark and strong or just some whole milk). You drop the needle on the jazz platter (or pull up a blues album on your mp3 player or dig out that mixtape from college). Ensconcing yourself in the coziest seat in the house, you crack the spine on a classic (or find your place in that sci-fi paperback or pull up a biography on your e-book reader). And then, you go away for a while. Ah, bliss.
In this series, some of NTSIB's friends share beloved albums, books and drinks to recommend or inspire.
---
Now, we again take up the story of Firewater. When we left our hero (or is that anti-hero?) Tod A, we feared his rock 'n' roll boat might have capsized in the international seas of music. But, wait! We have a transmission from Istanbul! It's a coded message, saying, "International Orange!"
Okay, enough purple prose. Here's the deal: Firewater has a new album out called International Orange!. Recorded and mixed in Istanbul, Turkey, (where Tod A now lives) and Tel Aviv, Israel, during the Arab Spring of 2011, International Orange! brings back together the team of Tod A and Balkan Beat Box's Tamir Muskat, who birthed Firewater's last powerfully rocking album, The Golden Hour. Though still backed by Tod A's acerbity, the album is punctuated by the passionate optimism of revolution and full-to-brimming with international rhythms. International Orange! tours Turkey, Greece, Pakistan, Cuba, Jamaica, Greece, picking up trinkets of each country's sound as it goes, melds them with the American and British fire of punk and rock, and sets it all down in a package that will have you clearing space for pogoing.
"A Little Revolution" – Firewater (download from link or listen below)

Now it is my giddy honor to hand the reins over to Tod A for another installment of inspiring recommendations.
–

The following can be enjoyed simultaneously, ideally underneath a palm tree on a tropical island.
Good Read:
The Rum Diary by Hunter S. Thompson
Forget the Johnny Depp film debacle: he completely missed the point. This book holds some of HST's best barbs about human nature. A choice quote: "Like most of the others, I was a seeker, a mover, a malcontent, and at times a stupid hell-raiser. I was never idle long enough to do much thinking, but I felt somehow that my instincts were right. I shared a vagrant optimism that some of us were making real progress, that we had taken an honest road, and that the best of us would inevitably make it over the top. At the same time, I shared a dark suspicion that the life we were leading was a lost cause, that we were all actors, kidding ourselves along on a senseless odyssey. It was the tension between these two poles — a restless idealism on one hand and a sense of impending doom on the other-that kept me going."
Good Listen:
Essential Ska Masters by The Skatalites
If you've never heard this amazing early sixties instrumental ska band, this record is a great place to start. Everything you probably love about jazz, with minimum wank, and plenty of skanky groove to get your hips shaking. Every cut is a winner.
"Confucius" – The Skatalites

Good Drink:
Arak Madu
Fill a tall glass with ice and one teaspoon of honey. Pour in three fingers of Indonesian arak, then top up the glass with fresh orange juice. Stir. Drink and repeat.
–
Make sure to check out Firewater on the road for a show that is told to be un-fucking-missable.