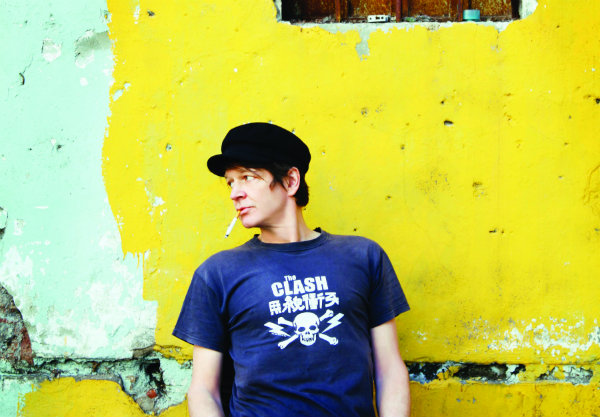 Let me get this out of the way first: Cop Shoot Cop was a fucking rad band. When I was introduced to their music, via their album Ask Questions Later, I had the experience that music lovers rummage through record shops, plunder blogs, and scan magazines seeking to replicate again and again: I found a band who was making exactly the kind of music I wanted to hear. Dual basses, steel wool vocals, no guitar, and a lot of anger: it was heavenly.
The hard truth of the matter, though, was that CSC had ended before I discovered them. In fact, lead man Tod A was already two albums deep in Firewater… though I wouldn't learn about Firewater for a few more years when I was stopped in my tracks by "This Is My Life".
"This Is My Life" – Firewater

Tod A was once again giving me exactly what I wanted, and it's impossible to sit still during this song, which came from the sixth Firewater album (and first one released on the Bloodshot label) The Golden Hour. If you, too, missed the beginning of the Firewater train, Bloodshot has given you a hand up by reissuing four of the first five Firewater albums: Get Off the Cross, We Need the Wood for the Fire, Psychopharmacology, The Man on the Burning Tightrope, and covers album Songs We Should Have Written (1998's The Ponzi Scheme remains a creature of the wild).
Within the breadth of the first Firewater album, Get Off the Cross…, you hear a hint of transition from the hard-edged attack of CSC to a warmer – though no less angry – sound heavily influenced by eastern and old European styles. Romani fiddles, klezmer, Russian folk, even shades of sea shanties and cabaret… all injected into groove-heavy, fiery rock, embroidered with Tod A's life-worn and knowing vocals.
"Bourbon and Division" – Firewater

But even on albums where the folk styles of the larger world takes a backseat, like 2001's Psychopharmacology, Tod A's sustained fire keeps things compelling.
"Get Out of My Head" – Firewater

And the covers of Songs We Should Have Written read like a sinister and sexy lounge act for those about to make their best worst mistake.
"Is That All There Is?" – Firewater

So much time has passed since Firewater's last album that you'd be forgiven for thinking Tod A had abandoned ship just as it had set off into international waters. Is that all there is? Oh, no. Take this break to familiarize yourself with Firewater's story so far, then keep your eyes and ears ready, for this story is… to be continued.