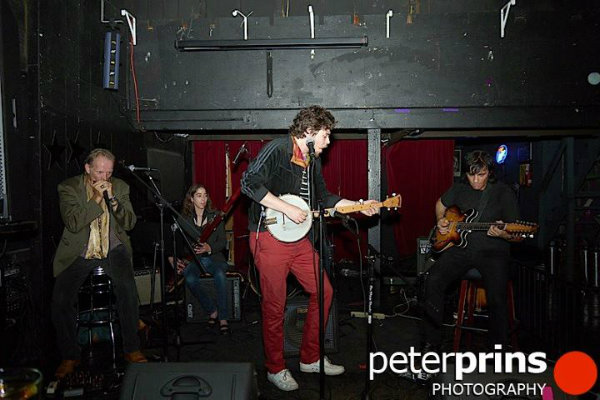 It's a simple yet sublime pleasure, and just thinking about it can make you feel a little calmer, a little more content. Imagine: You bring out one of the good rocks glasses (or your favorite mug or a special occasion tea cup) and pour a couple fingers of amber liquid (or something dark and strong or just some whole milk). You drop the needle on the jazz platter (or pull up a blues album on your mp3 player or dig out that mixtape from college). Ensconcing yourself in the coziest seat in the house, you crack the spine on a classic (or find your place in that sci-fi paperback or pull up a biography on your e-book reader). And then, you go away for a while. Ah, bliss.
In this series, some of NTSIB's friends share beloved albums, books and drinks to recommend or inspire.
---
We hold a special place in our hearts for Blackwater Jukebox around here. Partially because, while my co-blogger Jennifer and I are often at odds in our musical tastes, we are both enthusiastic about the synthesis of old and new, dance and hip hop churned up with folk and blues, produced by Blackwater Jukebox.
Check out an acoustic version of "Eastside Girls" recorded for this year's CXCW:
"Eastside Girls" – Blackwater Jukebox feat. Sadie & the Blue Eyed Devils

Another reason we love Blackwater Jukebox is because mastermind Geordie McElroy is such a nice and interesting fellow. So, we're pleased to have Geordie share a few fantastic recommendations with us.
"Mr. Vain" – Blackwater Jukebox feat. Sadie & the Blue Eyed Devils

Good Read:
A Confederacy of Dunces by John Kennedy Toole
John Kennedy Toole's absurd tragicomedy about Ignatius J. Reilly: an obese, over-educated, and egomaniacal mama's boy, forced to balance minimum wage drudgery with the calorie-intensive labors of penning an indictment of the 20th century. This book is for struggling artists, coffee shop philosophers, and anyone who has lashed out at dregs of pop culture. The "Crusade for Moorish Dignity" and The Sodomite Party political convention are high points among Ignatius' rambling mis-adventures through 1960s New Orleans.
Good Listen:
Zulu Jive: Umbaqanga – various artists
A UK import from the early 80s featuring a handful of tracks from apartheid-era South Africa. This may be the most jubilant and effervescent music – ever. Frankly, it would be shocking if Paul Simon hadn't pumped this prior to making Graceland. If you dig up-tempo, syncopated grooves with shimmering guitar, buoyant bass, and accordion – this album is for you. Good time music.
Good Drink:
Michelada
Mexican Bloody Mary made with beer, Clamato, and a fistful of flavor. Bursting with b-vitamins (and alcohol), the bright red concoction might be the ultimate hang-over cure, hunger neutralizer, and/or thirst quencher. Extra tasty with a salt and season rim. If you're ever in LA, try Mario's at the Silverlake Lounge. Liquid dynamite.
Blackwater Jukebox are planning a Dia de los Meurtos (November 1) release and west coasters can check out their upcoming gigs.
September 10 – Los Globos – Los Angeles, CA
October 1 – The Redwood Bar & Grill – Los Angeles, CA
November 8 – Sam Bond's Garage – Eugene, OR