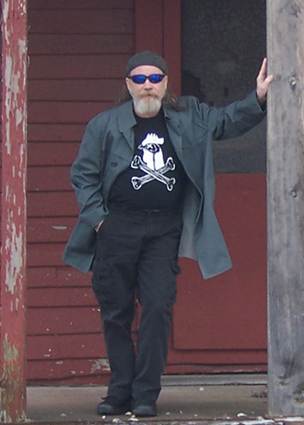 It's a simple yet sublime pleasure, and just thinking about it can make you feel a little calmer, a little more content. Imagine: You bring out one of the good rocks glasses (or your favorite mug or a special occasion tea cup) and pour a couple fingers of amber liquid (or something dark and strong or just some whole milk). You drop the needle on the jazz platter (or pull up a blues album on your mp3 player or dig out that mixtape from college). Ensconcing yourself in the coziest seat in the house, you crack the spine on a classic (or find your place in that sci-fi paperback or pull up a biography on your e-book reader). And then, you go away for a while. Ah, bliss.
In this series, some of NTSIB's friends share beloved albums, books and drinks to recommend or inspire.
---
We first "met" David Horton, a.k.a. @popa2unes, at the inaugural Couch by Couch West, where he was rightfully voted "Favorite Twitterer". It was clear from the start that "Popa" was an enthusiastic and proactive guy who loved to help promote the writers and musicians he liked. So proactive that he sent this read/listen/drink submission in without even having to be asked! But we are more than happy to celebrate David for all the love he's thrown our way.
Now David is funnelling that proactive enthusiasm into his own gig, writing for his music blog Popa's Tunes.
Without further ado, the incomparable Popa…
Good Read:
In His Own Write by John Lennon
Sometimes it's hard to herd your words into a sentence let alone curb the words you heard in your head. I love to sit down with this book after a tasty toke or two or three and just let John Lennon's play on words meander around in my head. It is an adventurous journey into the English language by someone who has been a hero to me throughout my life.
Good Listen:
A Space in Time – Ten Years After
Released in 1971 this is the bands seventh album and a departure from their earlier Alvin Lee fast fingering heavy blues releases, here they mix a more progressive rock flavor into the songs, with more acoustic guitar and echoey vocals and a bit more social commentary content in the lyrics. On no other Ten Years After album will you find, for instance, two tracks as moody as 'Here They Come' and 'Let The Sky Fall'. 'Here They Come', is based on a slow, entrancing acoustic riff with a slight medieval influence; it's dark and a little bit creepy. 'Let The Sky Fall', on the other hand, features a reworking of the 'Good Morning Little Schoolgirl' riff, but with an entirely different purpose: the song is supposed not to let you rock your ass, but to contemplate some vivid psychedelic associations, what with all the backwards guitars and special synth effects.
As with the above book it is best served with a tasty toke or two or three, cause everywhere is freaks and hairies, man.
Good Drink:
A cooler full. Cause really, is one enough?