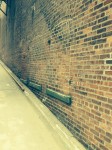 A mix-tape, whatever its intended purpose, is also always a time capsule. A record of a person, a place, a set of feelings, a time that felt like forever, and then wasn't.
Last week I opened a box and a little piece of the '90s fell out: the first driving mix-tape I ever made. There's no date on it, but I'm pretty sure it's from the spring of 1992, since that is approximately when I would have gotten my license. Fun trivia fact: I learned to drive on the Beltway. In a Chevette.
Anyway it is a hilarious cultural trainwreck and I kind of love it, not least because a mix that starts with Dwight Yoakam, dips heavily into, among other things, Rocky Horror Picture Show, Tom Petty and the Heartbreakers, and Elvis Costello in the middle, and ends with Ashokan Farewell probably does still sum me up as a person reasonably well.
Also, I have a terrible pop music problem and every time I listen to Five Seconds of Summer's She Looks So Perfect I start laughing when they get to I got a mix tape straight out of '94 because, dudes, I was there, I remember, and … Continue reading