It's a simple yet sublime pleasure, and just thinking about it can make you feel a little calmer, a little more content. Imagine: You bring out one of the good rocks glasses (or your favorite mug or a special occasion tea cup) and pour a couple fingers of amber liquid (or something dark and strong or just some whole milk). You drop the needle on the jazz platter (or pull up a blues album on your mp3 player or dig out that mixtape from college). Ensconcing yourself in the coziest seat in the house, you crack the spine on a classic (or find your place in that sci-fi paperback or pull up a biography on your e-book reader). And then, you go away for a while. Ah, bliss.
In this series, some of NTSIB's friends share beloved albums, books and drinks to recommend or inspire.
---
Girl Friend, an electro-pop outfit from Manchester, England, recently released an EP entitled Arrive Alone, Leave Alone. It's not so much party music as music for between the parties, a soundtrack to drown out uncomfortable silences in the car, and in your own head. It's bouncy, and kind of mournful, encompassing the gritty-eyed sore footed sour stomach morning-after as well as wistful nostalgia for the night before.
The song that hooked me was Monte Carlo:
And Style and Substance is also very good:
You can listen the rest at their Soundcloud page.
And with that, I turn the floor over to lead singer Amory, who joins us today to talk about a favorite book, record and drink.
---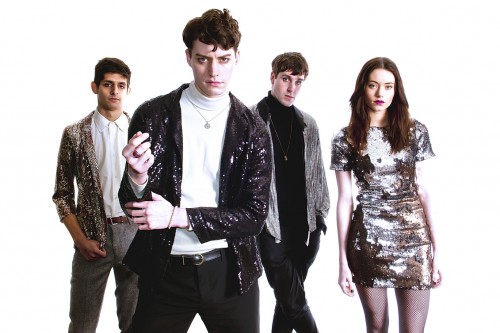 Girl Friend; Amory is in the center, in the black jacket.
A Good Read
Several years ago I was given a copy of Albert Camus' L'Étranger (The Stranger) for Christmas, what a brilliant present that was. Camus was a French Algerian author and philosopher ; a protean talent with a superb collection of long coats (collars, invariably upturned).
"A minute later she asked me if I loved her. I told her it didn't mean anything but that I didn't think so. She looked sad."
Something about Camus' depiction of emotional detachment, in the face of love and death, struck a chord with me. For those who often feel bereft and apathetic for reasons they can't quite define, I urge you to read this book. Remember -- it's society's problem, not ours.
A Good Listen
A recent favourite is Queen Of The Clouds by Tove Lo. It's a wonderful, melancholic, electro-pop record that embraces it's rich, Swedish heritage. Every song is imbued with lust and loneliness. QOTC is filled with more hooks than an anglers' convention; as a songwriter, I'm jealous.
Tove is also effortlessly sexy, in a way that Cyrus, Perry and Minaj will never understand. "I get home I got the munchies, binge on all my Twinkies. Throw up in the tub and I go to sleep." Sigh, throw up on me Tove.
Tove Lo - Habits (Stay High)
A Good Drink
Gin.
There is no pain gin & tonic can't numb, nor an event it cannot improve. I've a predilection for Sipsmith, but I'm easily pleased. I really don't mind, as long as the person I'm with is young, beautiful and paying…