It's a simple yet sublime pleasure, and just thinking about it can make you feel a little calmer, a little more content. Imagine: You bring out one of the good rocks glasses (or your favorite mug or a special occasion tea cup) and pour a couple fingers of amber liquid (or something dark and strong or just some whole milk). You drop the needle on the jazz platter (or pull up a blues album on your mp3 player or dig out that mixtape from college). Ensconcing yourself in the coziest seat in the house, you crack the spine on a classic (or find your place in that sci-fi paperback or pull up a biography on your e-book reader). And then, you go away for a while. Ah, bliss.
In this series, some of NTSIB's friends share beloved albums, books and drinks to recommend or inspire.
---
Catherine Feeny, indie folk solo artist has teamed up with jazz percussionist Chris Johnedis to make a record, and it's scheduled to emerge into the world later this month. I've had the pleasure of listening to some tracks ahead of time, and here's what I can tell you: it's a many-faceted folk-jazz fusion gem.
These are the two songs that are currently available the listening public. The first one is called Harm and is about unapologetically loving people that might be (probably are) bad for you, because, well, it's a thrill.
The second one, Carrier Pigeon, is about toxic love letters. I think. Maybe just about the power of love letters. It's lovely, anyway, and left me thinking about the thrill of receiving actual mail from loved ones, of delicate air mail paper and foreign stamps, of addresses written out, some with care, others, in an untidy scrawl. And, too, the letters that people keep – that I have kept – even when everything else has burned down or faded away.
And with that, I turn the floor over to Catherine Feeny, who has graciously agreed to join us today and tell us about a favorite book, record and beverage:
---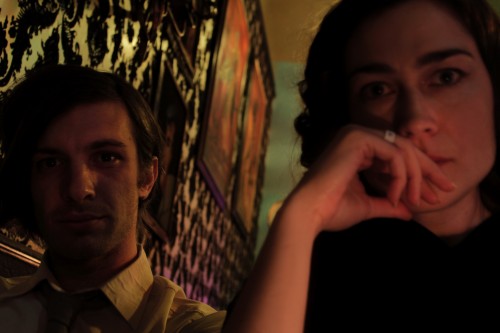 Chris Johnedis (left) and Catherine Feeny (right)
A Good Read
I am always a few years behind on my reading — I tend to find books in free piles or on the sale shelf. I just picked up The Art of Fielding by Chad Harbach, and I really enjoyed it. It is an intelligent, generous, entertaining novel with a large cast of characters that is long enough to let you really dig in. And badass Harbach founded N+1, a rad New York-based magazine and publisher.
A Good Listen
One of my favorite records of the year is Comfort in Doubt by Portland-based band Sama Dams. It is dark and complex and compelling. Sam and Lisa Adams are the husband-wife team who share writing and vocals, taking turns behind a weird 70s organ. Chris Hermsen, the drummer, is this passionate mathematical genius who alternates between cool reserve (as in the song My Ears Are Ringing) and unbridled energy. They are friends as well, so I get to see how they work up close.
Sama Dams - My Ears Are Ringing
A Good Drink
My favorite drink right now is a fermented tea called puerh. The tea is picked and then they get it wet in massive piles and let it sit. Finally, they dry it into cakes. When you find a good one (and they vary a lot) it has this rich, yet mellow concentrated 'tea' flavor. You can steep the leaves several times — often for the second steeping I let it sit overnight with cardamom seeds then heat it with milk and honey.