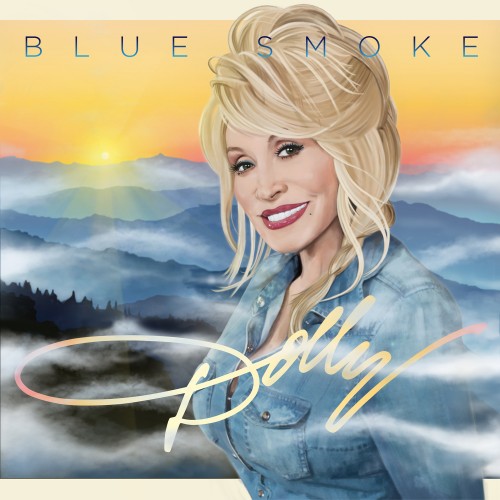 Blue Smoke, due out May 20, 2014, is Dolly Parton's 42nd studio album.
Sit back and let that sink in, y'all.
It's vintage Dolly Parton, in the sense that it might not break any new ground, sonically, but yet contains multitudes. No matter which Dolly Parton you like – sassy, sexy, silly, sweet, or bent on saving you – there is something here for you.
My Favorites: Unlikely Angel and From Here to the Moon and Back (with Willie Nelson)
On the other side of the I Will Always Love You coin is this song about a love that arrives late and unexpectedly, after all hope had been thought lost. The chorus has wormed it's way into my brain and refused to leave. I suspect it will become the go-to wedding song for people who never expected to be able to be married either at all or ever again.
From Here To the Moon and Back, which she shares with Willie Nelson (and originally appeared on To All The Girls . . . (2013), wherein he sang duets with some of the finest ladies in country music today) is probably also destined to be a popular wedding song. This is partially because if you wanted to, you could recite the lyrics as vows with only a little bit of tweaking, and partially because they sound so beautiful together. A little weathered, a little worn; their years are in their voices now, but that doesn't dim the shine. I realize some of you just can't think of Willie Nelson as anything other than a sweet old man, but there was a time when he was a handsome blue-eyed menace with a rebel glint in his eye – arguably that time was this morning – and this song summons that man back.
Unexpected Covers: Don't Think Twice (Bob Dylan) and Lay Your Hands On Me (Bon Jovi)
It is my suspicion that one thing Miss Dolly loves is causing people to pull out their music listening devices and mutter "Is that . . . is she . . . what the hell?" On Backwoods Barbie (2008), she dragged You Drive Me Crazy by the Fine Young Cannibals out of mothballs, added some fiddle and country swing, and it was glorious. This time around her choices and the results are a little more uneven.
Don't Think Twice actually works pretty well; she retains the snappy kiss-off spirit while infusing it with country soul and a wry weariness that gives it all new life.
Lay Your Hands On Me, on the other hand, has been – very minorly – rewritten and made into a praise song. Your feelings about this will depend entirely on how attached you are to the decidedly sexier original. I myself experience a mixture of déjà vu (Bon Jovi was subverting a common religious theme, after all) and cognitive dissonance (for me, the double subversion leads to Very Sexy Jesus, which, no) every time it comes on and so I tend to skip it.
Weepers: You Can't Make Old Friends (with Kenny Rogers) and Miss You, Miss Me
You Can't Make Old Friends originally appeared on Rogers' 2013 album of the same name. In it, they contemplate their own mortality and the end of their lifetime of friendship and duets. It is unbearably sad and as much as I love them individually and together I refuse to let it get much of a toehold in my reality. As far as I'm concerned they'll be alive and well and singing Islands in the Stream forever.
That said, here is the video. Grab the tissues, you'll need them:
Kenny Rogers – You Can't Make Old Friends (duet with Dolly Parton) [Official Video]
Miss You, Miss Me is basically a coda to Tammy Wynette's D-I-V-O-R-C-E from POV of the child in the middle and I have nothing nice to say about it.
Get'em Girl: Blue Smoke and Lover du Jour
The songs where Dolly Parton tells some man to shove it are my very favorite Dolly Parton songs.
In Blue Smoke she's delivering the kiss-off from the first train out of town; here's the lyric video:
Dolly Parton – Blue Smoke (Lyric Video)
And on Lover Du Jour she tells him she won't be his trifle, in French, no less. Somewhat mangled-for-the-sake-of-a-rhyme French, admittedly, but the sentiment is strong even if the execution is wobbly.
Traditional Tunes (all departments): Banks of the Ohio, If I Had Wings, Home, Try
Banks of the Ohio is a traditional tune in the standard sense of the phrase: it's a murder ballad about a young man who kills the woman who rejects his proposal, written in the late '20s. Miss Dolly's voice shines like a mountain diamond, and she really sells the story. (Also, true confession, I've listened to it several times now and each time her back up singer comes in I think Who is that, I know that voice so either it's a vocal doppleganger OR a famous voice flying under the radar.)
If I Had Wings, on the other hand, is a new song, but sounds like it's a hundred years old. It is mostly about regret and making the best of bad decisions when what you'd rather do is run away from the mess you made.
Home is traditional in the same way Chattahoochie by Alan Jackson is traditional, in the sense that they are both celebrations of rural Southern life that play out on ageless pastoral vistas.
And then, finally, Try, which is a traditional Dolly Parton song-as-pep-talk tune. Best deployed on that day you drop your coffee on your last clean work shirt and leave your lunch at home and need a little bit of friendly encouragement.
Finally, not only is she still releasing records, she's still taking her show on the road. Tour starts in May in Oklahoma and then jumps overseas.