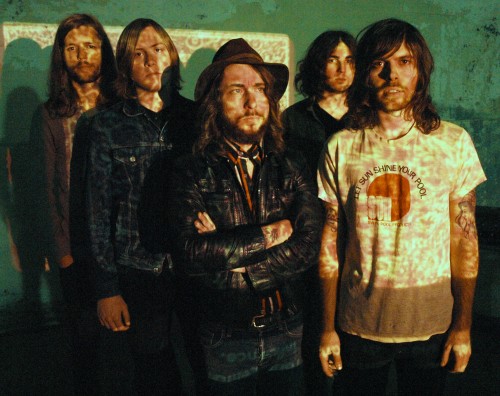 Jesus Sons began life in a motorcyle garage in San Francisco in 2011; the initial line-up was Brandon Wurtz and Shannon Dean with Rob Good and Ian McBrayer of Warm Soda. In 2013, Wurtz and Dean decamped for Los Angeles, and Chance Welton, Bert Hoover, and Erik Lake joined the band.
Jesus Sons, their first, self-titled record starts with a burst of bluesy harmonica that expands into a supple country-blues guitar riff, all of which caused me to sit back in my chair and smile in hopeful anticipation.
Ladies and gentlemen, I was not disappointed. If you like country-blues with ragged garage rock edges (all of them, but especially Ain't Talkin' Homesick) and the occasional burst of surfy shimmy (Out of Time) and/or suggestion someone may be conducting a punk rock exorcism (Melt/Going Down), you need this record in your life. Also, amid all the swagger, there's a six minute instrumental – You Put a Spell on Me – which is, dare I say it, kind of sweet.
Here, as an enticement, is the video for All These Furs, in which they play a show at Salvation Mountain. It passes my "could I watch this with the sound off and still enjoy it/follow what was going on" test and also makes me want to be at the show, because those people look like they're having fun.
Jesus Sons "All These Furs" A Carey Quinton Haider Film from carey haider on Vimeo.