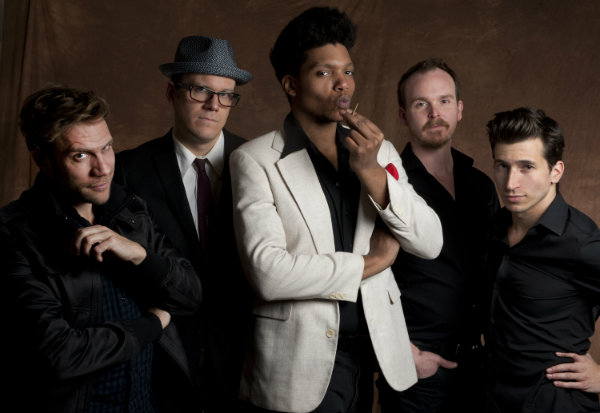 It's a simple yet sublime pleasure, and just thinking about it can make you feel a little calmer, a little more content. Imagine: You bring out one of the good rocks glasses (or your favorite mug or a special occasion tea cup) and pour a couple fingers of amber liquid (or something dark and strong or just some whole milk). You drop the needle on the jazz platter (or pull up a blues album on your mp3 player or dig out that mixtape from college). Ensconcing yourself in the coziest seat in the house, you crack the spine on a classic (or find your place in that sci-fi paperback or pull up a biography on your e-book reader). And then, you go away for a while. Ah, bliss.
In this series, some of NTSIB's friends share beloved albums, books and drinks to recommend or inspire.
---
I've effused about JC Brooks and the Uptown Sound's rump-shaking soul and phenomenal live show more than once. They are just really fucking good, people! And in advance of their return to Cleveland this Sunday, Uptown men Andy Rosenstein (keys) and Kevin Marks (drums) have given us some fine recommendations
Andy says: I'd suggest reading Hardboiled Wonderland and The End Of The World by Haruki Murakami while drinking a Manhattan and listening to Charles Mingus' East Coasting. When Mingus ends, put on Talkie Walkie by Air. (Bonus enjoyment if you do your reading in the bathtub.)
"Memories of You" – Charles Mingus

"Venus" – Air

Kevin says: Anything by Hemingway, a bottle of Jameson and Miles Davis' Bitches Brew and see where that gets ya.
"Miles Runs the Voodoo Down" – Miles Davis

For a little taste of what you'll experience Sunday night, here's a KEXP session recorded not long before JC Brooks and the Uptown Sound's previous Cleveland appearance back in November.
Sun, Aug 19 | 8:30 PM (7:30 PM door)
JC Brooks & The Uptown Sound
R.A. Washington & The Family Dollar
DJ Charles McGaw spins before & between sets
$10.00 adv / $12.00 dos
Tavern | All Ages
JC Brooks and the Uptown Sound
The Beachland Ballroom & Tavern