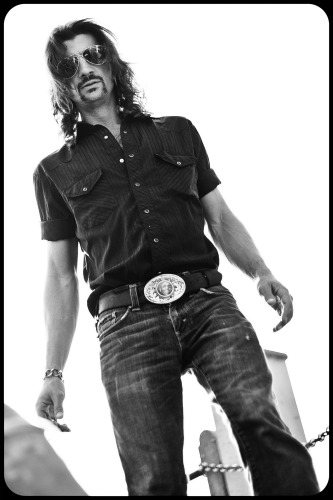 Solitary Pleasure is ingrained with James Leg's extensive knowledge of the rock and roll canon and the album displays his passion and originality to full effect. Granted, Leg's gargled-with-goat vocal style could be an acquired taste, but it's also a quality instrument that, like his keyboard work, will prove powerful, yet supple and dextrous over the course of the album. Imagine Tom Waits doing Bobby "Blue" Bland covers.
– DEEP BLUES
"Long live rock and soul and pianos and devil horns."
– POPMATTERS
If you've been reading NTSIB for a while, you know that I freaking love James Leg (a.k.a. John Wesley Myers of the Black Diamond Heavies) and that his album, Solitary Pleasure, is probably my favorite album of 2011. If not, here's a little memory refresher.
I already have two James Leg shows under my belt this year, and I'm excited for a third. Sitting down at the keys, Leg generates more energy on stage than most of his more mobile counterparts, leg flailing to the beat and hair flying in his face as he pushes his foghorn howl through the microphone to blast you out and then settle down in the center of your pelvis. But he doesn't stop there, setting that pelvis to sway, shake and grind as he makes his trusty Fender Rhodes talk like a guitar and growl like a junkyard Rottweiler. The man puts so much effort into making you move your ass that he's usually sweated through his shirt by the 2nd or 3rd song.
James Leg will be turning Cleveland's Now That's Class into a sweatbox on December 5th at 9 PM for $5 a head. Openers will be northeastern Ohio bands White Buffalo Woman and the Buffalo Ryders, as apparently, buffalo are the new indie band animal of choice. Please grab your free copy of the sleazy-in-all-the-best-ways "Do How You Wanna" below and join me on the 5th.
And if you don't live in the CLE, do what you can to catch James Leg at one of the stops below.
Dec 01: Nashville, TN @ The 5 Spot w/ Blackfaces (members of Immortal Lee County Killers, Soledad Brothers and Be Your Own Pet) and D.Watusi
Dec 02: Huntington, WV @ The V Club
Dec 03: Louisville, KY @ Zanzabar
Dec 04: Cincinnati, OH @ Junkers Tavern
Dec 05: Cleveland, OH @ Now Thats Class
Dec 06: Detroit, MI @ PJ's Lager House
Dec 07: Ft. Wayne, IN @ The Brass Rail w/ Left Lane Cruiser
Dec 08: Lafayette, IN @ Lafayette Brewing Co.
Dec 09: Chicago, IL @ Morseland
Dec 10: Columbia, MO @ The Bridge
Dec 11: St Louis, MO @ Off Broadway
Dec 12: TBA
Dec 13: Kansas City, MO @ Davey's Uptown Ramblers Club
Dec 15: Omaha, NE @ O'Leaver's Pub
Dec 16: Bayport, MN (Minneapolis) @ Bayport BBQ w/ Molly Gene's One Whoaman Band
Dec 17: Bayport, MN (Minneapolis) @ Bayport BBQ w/ Molly Gene's One Whoaman Band
Dec 18: Green Bay, WI @ Phatheads
Dec 19: Madison, WI @ High Noon Saloon
Dec 20: Dubuque, IA @ Off Minor
[West Coast March 2012 tour dates to be announced soon]