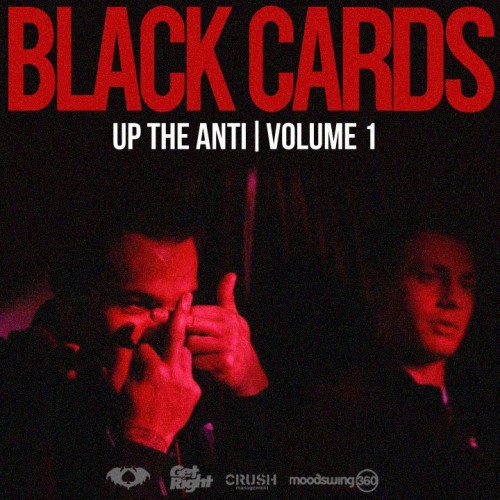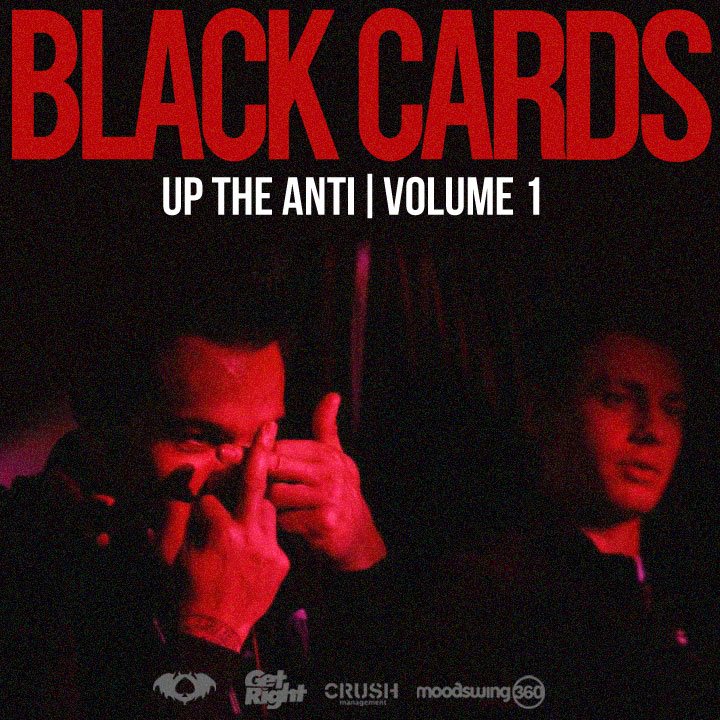 Here is what your Monday needs: some thudding dance music, with bursts of WHIMBLE WHIMBLE WHOOP and BZZZ BZZZ BZZZ. Seriously, it sounds like they were having some fun in the studio when they made this one. There are 35 songs but some of them are short, so you're bound to find something you like, and if you hate a track, it'll probably be over soon.
Black Cards – Up The Anti | Volume One by blackcards
Download link available here.
Tracklisting
01. Gym Class Heroes & Neon Hitch "Ass Back Home (Black Cards Remix)"
02. Swedish House Mafia vs. Knife Party "Antidote (Kaskade Edit)"
03. Dada Life "Happy Violence (Caveat Remix)"
04. Skrillex & Ellie Goulding "Summit (Aylen Remix)"
05. Rihanna "We Found Love (Black Cards Live Edit)"
06. Kaskade "Turn It Down (Le Castle Vania Remix)"
07. Cobra Starship "#1Night (Black Cards Remix)"
08. Havana Brown "We Run The Night (Congorock Remix)"
09. Nero "Promises (Denzal Park Remix)"
10. R3hab "Sending My Love (Afrojack Edit)"
11. Outasight "Tonight Is The Night (Benzi & DStar Remix)"
12. Bingo Players "Rattle (Daft Punk Edit)"
13. Angger Dimas "Are You Ready (Mahesa Utara Remix)"
14. Bro Safari "Da Worm"
15. Skrillex "Bangarang"
16. Silver Medallion "All I Ask (Drunkmaster Flex & Geek Boy Remix)"
17. Ed Sheeran "You Need Me, I Dont Need You (Josef III Remix)"
18. M83 "Midnight City (Cassius Slay Remix)"
19. Steve Aoki & Rivers Cuomo "Earthquakey People (Dillon Francis Remix)"
20. Oh My! "Dirty Dancer (Alvin Risk Remix)"
21. Gym Class Heroes & Adam Levine "Stereo Hearts (Drunkmaster Flex Remix)"
22. Diplo & Skrillex "Amplifire"
23. Porter Robinson "100 Percent In The B*tch"
24. Alex Clare "Up All Night (Nadastrom Remix)"
25. Major Lazer & The Party Squad "Original Don (Black Cards Remix)"
26. Solidisco "Hooked (Codes Remix)"
27. Gianni Marino & Mahesa Utara "Gokilll"
28. Symone "Runnin"
29. DJ Fresh "Gold Dust (Flux Pavilion Remix)"
30. Wonkap "Bass Engine"
31. Lana Del Rey "Born To Die (Gemini Remix)"
32. Skrillex & The Doors "Breakin' A Sweat"
33. Waka Flocka Flame "Hard In The Paint (Crizzly Remix)"
34. Avicii "Levels (Skrillex Remix)"
35. Jay-Z vs Nero & Porter Robinson "Hov-A-Finale (Black Cards Edit)"
Bonus pictures:
These are a few from last September, from the Black Cards set at Summerstage in Central Park when they opened for Panic! at the Disco and Neon Trees. There's been some changes in their line-up since then – Bebe Rexha has left them to become a solo artist – but I thought I'd share anyway.
Spencer Peterson and werewolf dancers. (They took off the masks later.)
Bebe Rexha and Shaggy, who was a surprise guest.
Pete Wentz addressing the crowd.