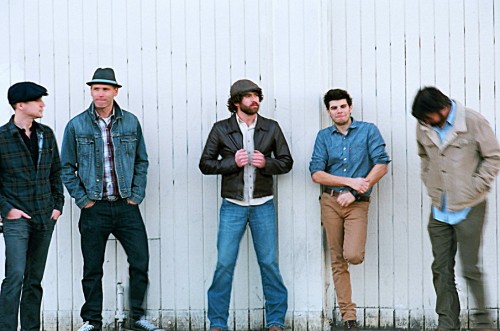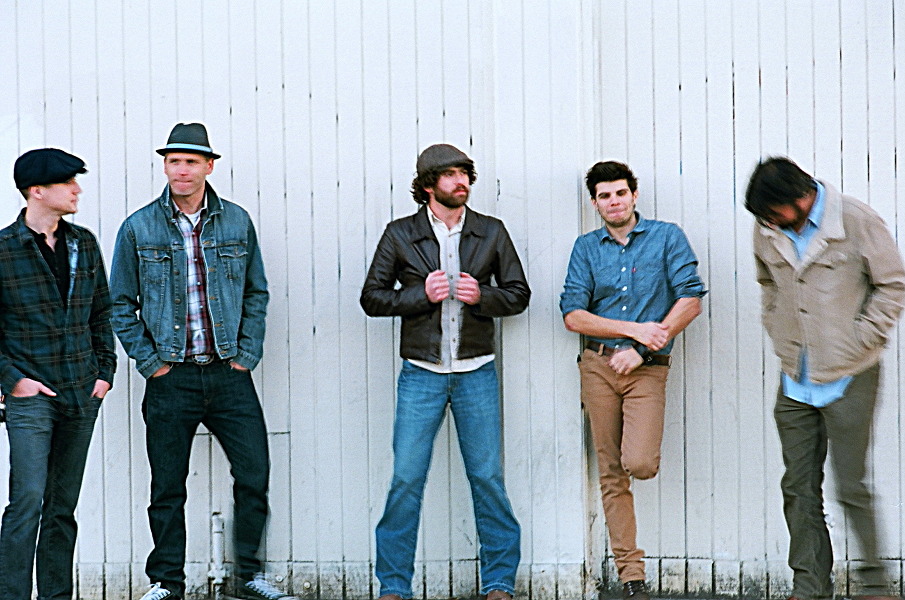 NTSIBbers, if you haven't already had the pleasure, please meet The Far West: Lee Briante (lead vocals / guitar), Robert Black (bass), Erik Kristiansen (pedal steel), Alan F. Rogers (drums) and Brian Bachman (guitar).
Collectively veterans of music scenes in places like Texas (all of it), New York (upstate and the lower East Side), Massachusetts (Boston and western Mass), Louisiana, the Gulf Coast (all of it), Alabama, and Sweden, they came together as a band in Los Angeles, CA early in 2010.
Their first record, Bitter Drunk and Cold, was recorded in less than a week at the American Legion Post 416 in Encinitas, California with the help of engineer/ producer Colin McLean, and released in 2011.
I was hooked from the first song – which happens to be the title track – and spent a week or two carrying it around with me in order to appreciate it properly. It's good walking and thinking music; by which I mean, I would put it on as I was headed home after work and the next thing I knew 20 blocks had slipped by without my noticing.
These are some of the questions I had once I'd finished marinating in the tunes, and Lee Briante with the answers.
Did you name the band after the steamboat The Far West that was a supply vessel for Custer's Last Stand? I happened to be reading The Last Stand, by Nathanial Philbrick this summer and saw several references to the ship, and I was just wondering.
We did not name the band for the steamboat, although it certainly is a great story and would be a great namesake. The Far West was decided on as we felt it captured a certain feeling of longing, searching as well as made reference to the frontier and the feelings linked to that.
Robert Black joined the band by answering a Craigslist post you made that was just a video of Waylon Jennings singing A Couple More Years. How did you pick that video to post as your band-mate wanted ad? Are you especially fond of that song?
I had been watching Hearts of Fire, the 80's movie with Bob Dylan, late at nightand this scene interested me:
I looked up the Waylon Jennings version and it just seemed like the right amount of cryin' in your beer & twang. The pedal steel by Ralph Mooney is beautiful and Waylon's sweating and playing his heart out. At that time I wanted to build a bar band that would be playing songs like this at closing time. Shel Silverstein wrote A Couple More Years. In terms of songwriting, it's just a perfect song that really captures something special.
I'm also curious about the title track of your record. I'm guessing it's about Los Angeles? But I was thinking about it when I was there, last summer, how the place was so warm and sunny and yet felt so empty and still.
Bitter, Drunk & Cold is indeed about LA, my initial feelings after moving here from the east, a few of my personal experiences and the overall loneliness that a lot of folks that move here alone, not knowing anyone at all, and having certain expectations are bound to experience. Most people have come a long way to be here, in terms of miles, sacrifices and their own personal histories.
This makes LA a unique city in many ways. A transient city, with many folks coming and going, feelings of possibility and of absolute desolation are both abundant, oftentimes simultaneously. It can be the last stop for dreamers, putting it all on the table one last time, making one last push. That makes for a one of kind feeling here in LA, that love / hate dichotomy that you hear.
And I wanted to know more about recording at the American Legion Outpost. What made you decide to record there, and what was it like?
Our drummer Tony had a connection there, as well as his mother occasionally volunteering her time there, Tony had organized several all day musical jam sessions / BBQ's there. The Far West had played a few of those, as well as several Friday & Saturday night performances.
The room itself has a great wealth of character, wood and tall ceilings, which added up to a room with great energy and sonic possibilities. These days a studio can be anywhere you can plug in microphones and equipment and when we asked the folks at the Legion if we could use the space as a studio they thought it was a fine idea.
They agreed to open the doors early so we could set up and work all day, as long as we didn't mind working around them and customers when the opened the doors around 3pm. So over 4 or 5 days we set up and recorded all day, with deliveries coming and going, bar patrons tinkling glasses etc. Some of that noise can be heard on the album, but we wanted to record live, not in a sterile studio.
Finally, what's next for you all? Tours? Videos? etc.
We continue to gig regularly in Southern California, write new songs and work on music. We are in the process of making a video or two, and are planning our return to the South-By-Southwest music festival in Austin this March. (Dates and times still TBA.)
And now for some video! First, the Waylon Jennings song that brought part of the band together:
And then two from The Far West themselves:
This is Where I Get Off, at the Redwood Bar:
The Far West - Where I Get Off (Live at Redwood Bar)
Town Called Lonesome, at the Hotel Cafe:
The Far West-Town Called Lonesome (Live Hotel Cafe)