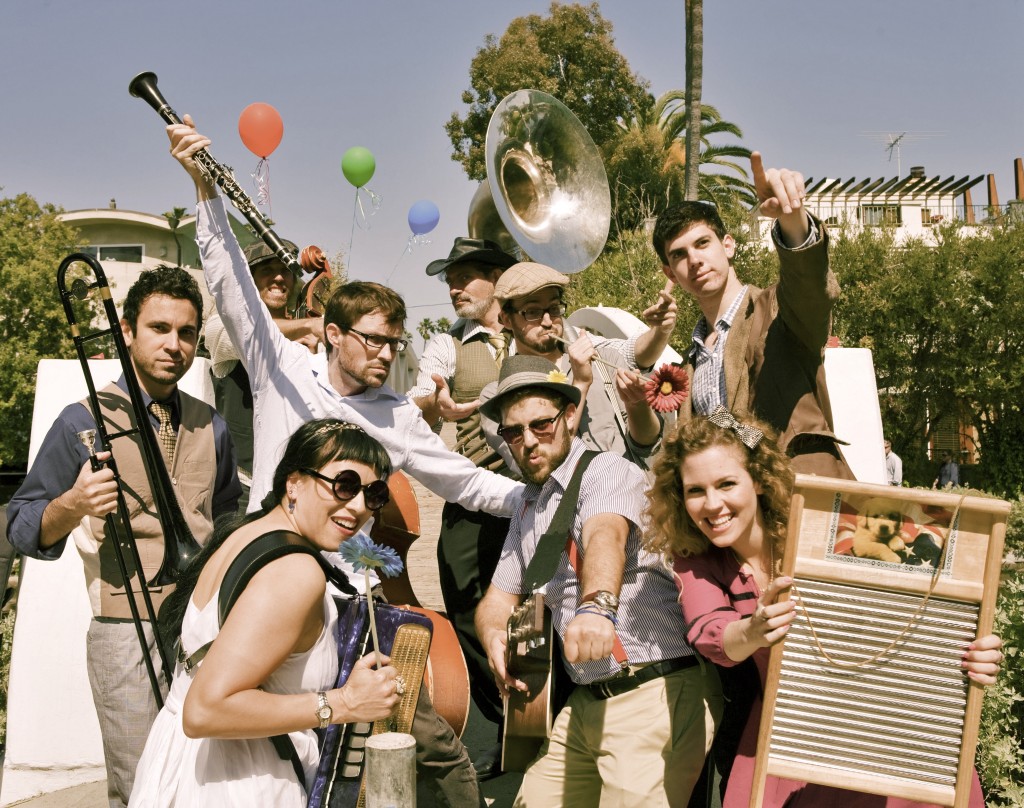 Good morning, NTSIBbers. Today I would like you to meet Dustbowl Revival, a roots/jazz collective from Venice, California. They recently put out a record called Holy Ghost Station, and if you like your bluegrass to have some jazzy swing, this record is for you.
Also, if we have any swing dancers in the audience – or people that love swing dancers and want to provide them with snazzy new music – I am reliably informed that Dustbowl's tunes are, in general, ideally suited to the St. Louis Shag, the Collegiate Shag, Balboa, and the Jitterbug. Furthermore, Lowdown Blues, one of my favorites, is perfect for the Lindy Hop.
Zach Lupetin, founder / ringmaster of the Revival / Collective, was kind enough to answer a few questions about the group:
What inspired you to delve so deeply into this particular era / genre of American music?
I'd say first, I started writing songs when I was in high school and my father (a great blues harp player in Chicago who often plays with Dustbowl when he's in town) was blasting a lot of big band, blues and early rock n' roll – British invasion stuff. My mom was heavy into the sixties folky scene and Patsy Cline and those country artists that had crossed over.
In college it sorted started seeping in and I had some friends in a band there that pushed me to look earlier, which sort of started a love-affair with close-harmony bluegrass and jug-band style tunes, Dixieland, that playful Fats Waller piano boogie and the earliest form of all – the church music and Mahalia Jackson, Sister Rosetta Tharpe and so forth.
I lived in the Village in NYC for a little while and there is this crusty old bar called Arthur's Tavern on Grove and there is a Dixieland band that has played ever Monday night for the last 59 years or something absurd. Old cats who can really blow. Something about that sound, the raw happiness in it, that really stuck in my mind – not sure why. It's like seeing into a past life or something. You're deep in it without any real reason to be.
Seeing what C.W. Stoneking and The Del McCoury-Preservation Hall Jazz Band are doing combining roots and pre-war jazz forms really got me going. The band has been together for over three years now and keeps getting bigger.
Do you ever go out on tour, or is it a strictly catch you in Los Angeles kind of affair?
The band is a bit of a large gang (usually 7-9 of us at a time) so extensive touring has not quite happened. Though we have played a good deal in San Francisco and the Bay as well as Seattle, Anchorage, Chicago, and San Diego.
The LA area is so diverse that it's easy to fall into a nice rhythm of playing clubs and events here. I've traveled extensively in Europe and lived in Prague for a bit so I'd love to bring the group across the pond – would be a blast.
How many of you are there, exactly, and who plays what in the band as of right now?
Our core instrumentation is usually: acoustic guitar (Z.Lupetin), mandolin (Daniel Mark), fiddle (Connor Vance), trumpet (Matt Rubin), trombone (Ulf Bjorlin), clarinet (Nate Ketner), a gal singer (Caitlin Doyle) (plus washboard), drums (Josh Heffernan), upright bass (Austin Nicholsen + often we have a gypsy guitar player (Ray Bergstrom), blues harp (JT Ross), tuba, banjo (Matt Breur) accordion (Gee Rabe) and pedal steel.
We even had a bagpipe once! We act as a collective so we are constantly having new musicians in the area come in and out.
Thanks Zach!
Now, as examples of the Dustbowl Revival's groove, I give you my absolute favorite song of theirs, Le Bataillon. Be sure to listen carefully to the lyrics, as they are amazing and kind of trippy:
Le Bataillon by dustbowlrevival
And also some video:
"Riverboat Queen" performed by The Dustbowl Revival live at the Echoplex