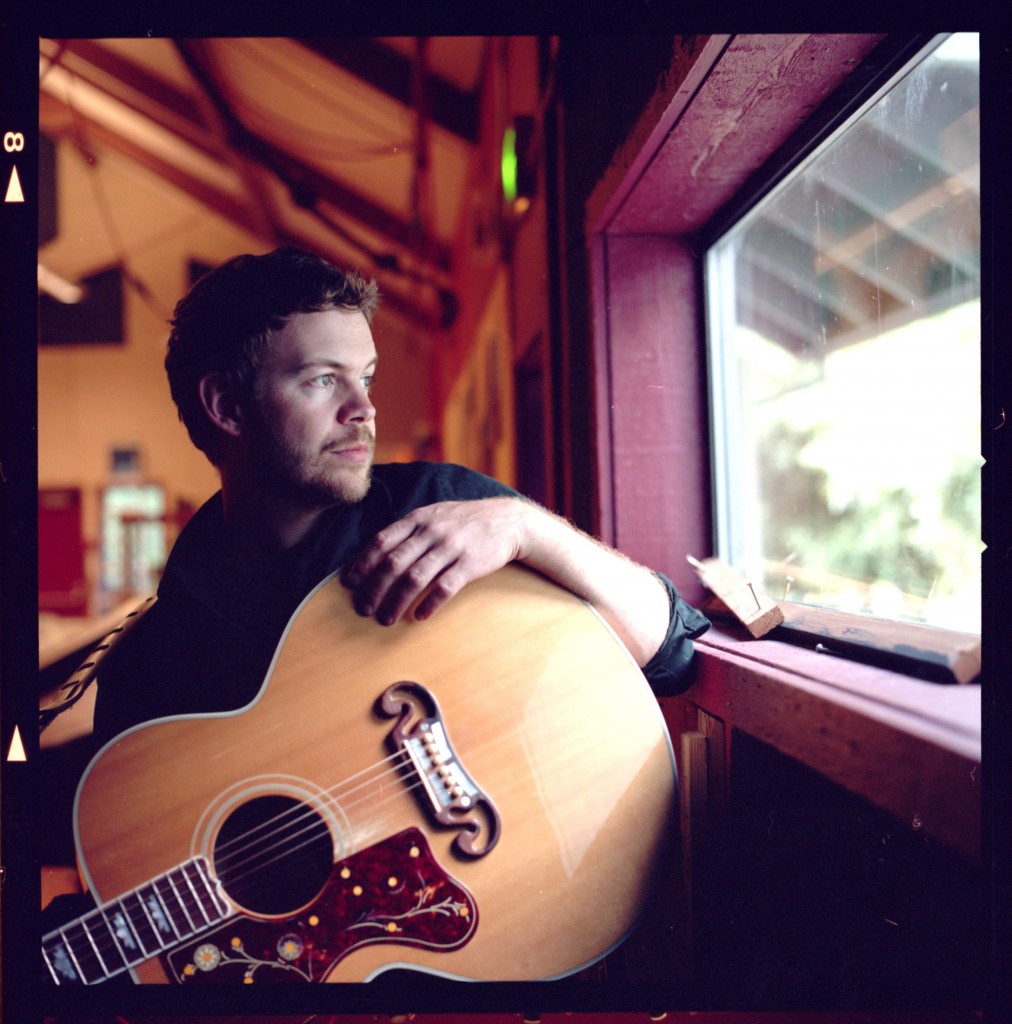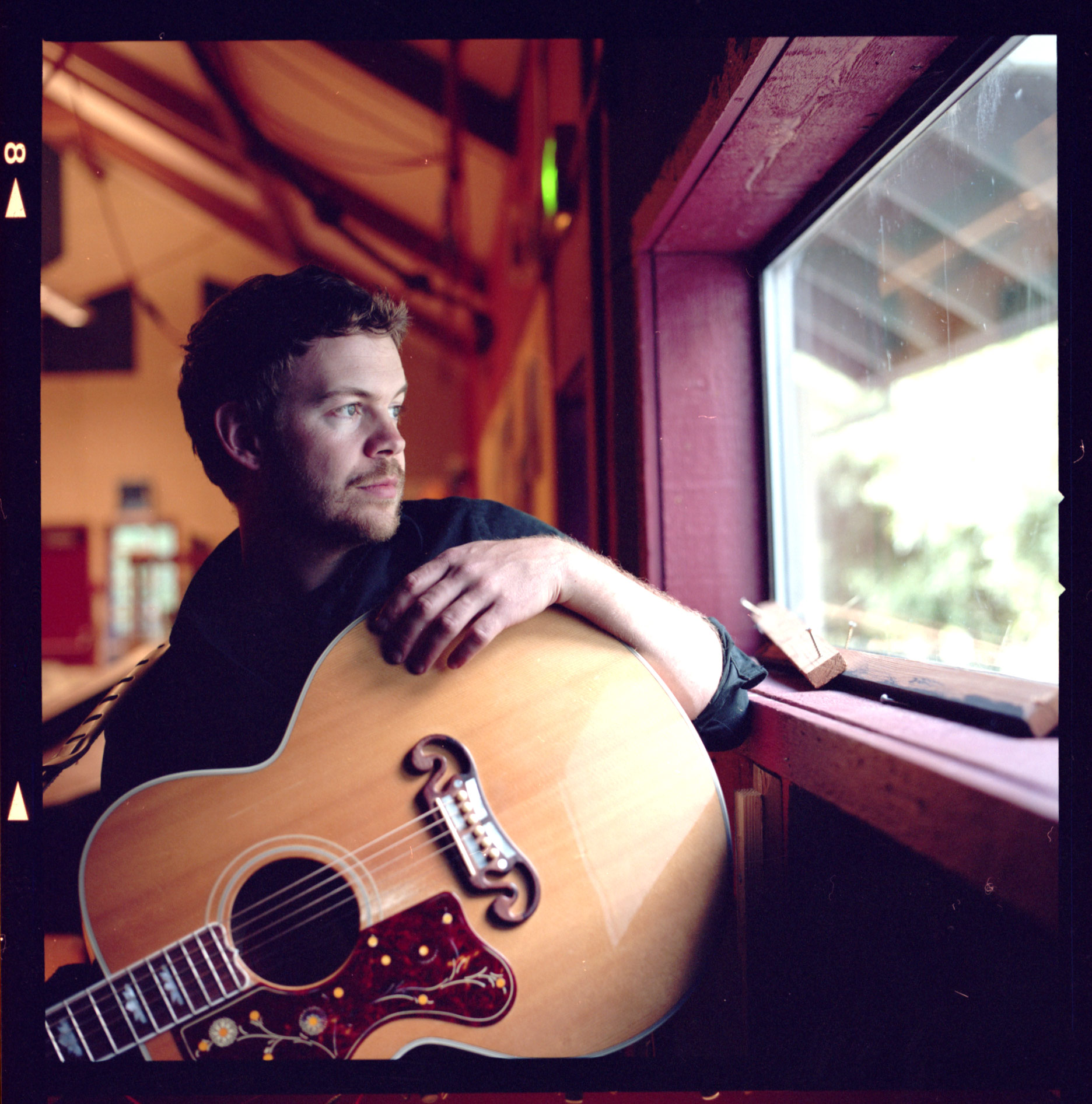 Chris Marshall is from Portland, Oregon. As the son of a preacher that founded his own church, Marshall grew up with religion at home and even played and led the church's music.  Then, after several years of floating around the indie music scene, Marshall gave himself an ultimatum: make a record before you turn 30. With help from bassist Allen Hunter (The Eels), drummer Ezra Holbrook (The Decemberists), and pedal steel player Paul Brainard (Richmond Fontaine), he made it just under the wire, releasing August Light in 2010, at age 29.
The record has a strong country core with ribbons of western swirling through the bottom and indie-rock grace notes on the top. It's a complex and fascinating mix, and after a couple of listens I decided I wanted to know more about the man behind the sound. Here's what I asked, and what I found out:
What were you doing, musically, before you decided it was time to fish or cut bait, as it were, and make a solo record? Did you jump directly from church music to a more secular concept, or was it a gradual shifting?
I've been going at it solo from the outset, so it was just a matter of timing when I decided to finally go in and make a full-length/fully-realized studio record. I'd done a number of recording sessions before, just sort of working out a style and sound that I felt was sort of my own. I got to the point where I felt I was sitting on a really strong batch of songs, so it was just a matter of executing a studio recording that would frame those songs in the best shape possible.
And as far as the distinction between church music and secular, I've never really felt compelled to make one in terms of the music I write and perform. Art is art to me, and I like to think music is still art, even though it has more baggage than other artistic mediums. I think there is definitely a specific type of art and a style of music that is directly written for the church, what we might call "liturgical" music in the Christian tradition.
I've definitely recorded some gospel music, but I don't see myself in that role as an artist. And what is commonly called "christian music" is just an industry definition, and I'm not comfortable at all taking what I do and calling it that. If it deserves any classification, it's just American music, and I'm just an artist who borrows from that medium, whether it's gospel, country, blues, folk, or rock and roll.
How did your family react to you choosing secular music?
If I'm doing something I believe in and am working hard at it, my family is always behind me. And there is no one more supportive than my folks. I doubt if the thought of whether or not what I sing is "secular" or "christian" ever crosses their mind. I wasn't raised in a home where faith was something rigid or oppressive. It was always presented to me as a really beautiful and heartfelt thing, and music was always central to that.
How did you meet the musicians who worked with you on the record?
Jeremy Wilson produced the record, and his ties to the Portland music scene are pretty deep, from his time with the Dharma Bums in the late-80's, early 90's. When we started talking about the sound we'd go for, he keyed in on some of the guys he thought would knock it out, and luckily they all we're free and able to get behind it. Paul Brainard plays pedal steel for Richmond Fontaine, who is a Portland band that I've admired for a really long time. They were the first 21+ show I ever saw, and I've been a huge fan ever since.
So he played steel on the record and did the string arrangments, which are really the highlight of the album for me ("For Too Long Now" and "Everytime the Wind Blows"). Allen Hunter played bass, and he's just a stud; plays in a band called Kleveland, and tours occasionally with the Eels. In fact, he's doing a world tour with them this summer.
And Ezra Holbrook, who played drums, is just a boss all around. He was the first drummer for the Decemberists, plays now with Casey Neill and the Norway Rats and is the lead MC for a local band called Dr. Theopolis. He does some killer songwriting and performing solo as well, has a new record out right now actually. The other elements were done by close friends of mine who I've worked with before either in the studio or live.
What were some of the specific challenges that you had to climb over to get to the point where you were ready to make the record?
I'd actually go back 6 or 7 years ago to a season in my life where I had just started recovering from really the darkest possible period I hope I ever have to go through. And I just had a really simple goal which was to keep writing songs and to eventually cut an album that I could look at and call good before I turned thirty.
It was really just trial and error from there, but a few years later when I was continuing to experiment with songwriting, I just got a strong, organic sense that it was time to really go for it. I wasn't playing out or anything at that point, but it's the moment where I started to. And when this particular record started coming together the way it did, with the group of songs and the effort going into it, I came to a really fulfilling realization that I'd set a goal and reached it.
Your sound is an interesting mix of country and western and indie-pop. Which artists would you say influenced the development of that sound?
The country elements come straight from the giants: Johnny Cash, Willie Nelson, Merle Haggard, Kris Kristofferson, and on into George Strait and some of the contemporary artists I really like, such as Ryan Adams and Hayes Carll and even big-time guys like Zac Brown Band and Brad Paisley. This is where I'd throw Bob Dylan into that mix as well. And Neil Diamond, for fun. And Elvis Presley kind of presides over everything as far I'm concerned. In general though, I'm just a music hound.
I get in deep to just about every flavor there is and I can talk shop with just about anyone on any genre. I actually probably listen these days to more gangster rap than anything else. But as far as the indie streak, I'm pulling from bands I grew up copping, like Sunny Day Real Estate, Mineral, Flaming Lips, and even awesome-era U2.
I saw Arcade Fire's first show in Portland when they opened up for Ted Leo and the Phamarcists back in 2004, and I've been a huge fan ever since. Their whole presentation and approach is really refreshing and inspiring, and there are nods to that influence in a few different spots on the record.
And then the traditional three:
What was your transformative song – the rock and roll lightning strike – and why?
Goodness. I'd have to really meditate on that for a few days before I could really say for sure. But I'm gonna go with Elvis' "American Trilogy."  That performance puts the fear of God in me everytime I hear it. It's shockingly epic, and the footage I have seen of him performing it live, with the orchestra and the Stamps singing back up; it's just terrifyingly brilliant. The greatest vocal performance I know of.
What was your first show (that you went to, not that you played)?
The first real "show" I ever went to, which is different in my mind from what I think of as "concerts" in an arena, was a So.Cal. punk band called The Blamed in the basement of an old church building in Southeast Portland that was called The Push. I still remember thinking of the ringing in my ears as my own personal badge of honor for like two days afterwards. I felt like I'd passed through some kind of labyrinth, you know?
I have a photo I recently found that I had forced my brother to take soon after that show. I'm dressed exactly like the lead singer of the Blamed, with cut off Dickies and a "wife-beater," as they were so unfortunately called, and black Converse low-tops with the star logo on the side.
I had made this fake microphone, and I did this punk rock jump/kick thing just like him, but my jump was off the washer and drier in our garage. Not exactly as cool as jumping off the kick drum. I put the picture on my fridge after I found it so I can always be reminded that, at my core, I'm really just a big poser.
What was the first record you bought? What was the last one?
I can't really pick out a first from the abundance of cassette tapes and cassette singles we had around, but I do remember the first two compact discs my brother and I brought home when we got our first CD player. Oddly enough, one of them was the Blamed's album on Tooth and Nail Records called "21," and the other was Weezer's Blue album. We were pretty sure that record wasn't punk at all, but I don't think anyone at my age at the time could resist the hits on that album.
The last record I bought probably won't tell you much about me as an artist. It's just a mixtape by former Roc-A-Fella artists Freeway and Beanie Sigel, and I got it so I could hear Sigel's Jay-Z diss (even though I love Hova), and because they are two of my all time favorites.
Probably a more relevant one to highlight is the second to last record I bought, which was Ryan Adams and the Cardinal's new double-album "III/IV." I wasn't sure I'd like it because his cheeky rock stuff has never been my favorite, but it's actually one of his best in my book.
Finally, here he is with "I Found You", live in Portland:
"I Found You" - Chris Marshall @ The Doug Fir Lounge (PDX, OR)