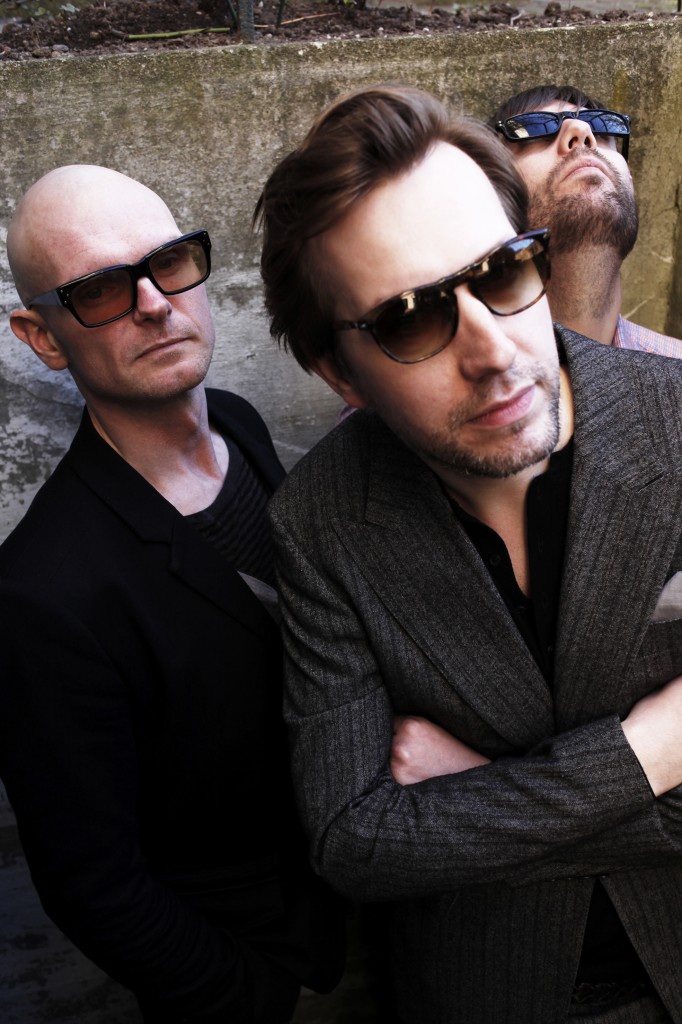 Band members (from left to right): Nicklas, Mathias, Jan. Photo  courtesy of Bad Man Recording Co.
The Bell are Nicklas Nilsson, Mathias Stromberg and Jan Petterson, from Malmö and Stockholm, Sweden. Last month they released Great Heat, their second record, which they put together with a great deal  of help from modern technology. I carried it around with me on my iPod for a week or so, and then, intrigued by their beats, made use of technology myself, and had an email chat with Mathias and his bandmates:
Mathias, I see that you sing, but which instruments do the rest of the band play?
Jan and Nicklas play all instruments, but write most of the songs on guitar and keyboard/piano. They fiddle with the computers and then we record vocals (all of us even though I do lead) and produce/mix everything together the three of us.
Why did you name the band The Bell?
There really is no specific answer to this question, it springs from a lot of things. From "For Whom The Bell Tolls" by Hemingway, which is just such an excellent title – to just sounding neat. We like the singular notion of One Bell, as well. THE Bell. It sounds alarming and like enlightenment.
I checked a map to see just how far apart Malmö and Stockholm are, and it looks like it's approximately the same distance, as, say, New York City to the tip of Cape Cod, in Massachusetts, or about a six hour drive. I know you managed to record and mix the record while living in the different cities, but how did you all meet in the first place? And also who lives in Malmö and who lives in Stockholm?
Jan and Nicklas are small town boys both geographically and by heart. Jan's from the north of Sweden originally and Nicklas from the south. I'm from and in Stockholm. Me and Jan go to know each other out on the town, as he used to live here. We realized we were into the same music (and books, films, wine and fonts) so we hung out more and more. Then he moved to Malmö for love.
Fonts? Which ones? Which font do you both appreciate the most, and why?
Today I would have to say old Poster Bodoni. Getting that fifties Italian café vibe …
Did you ever meet in the middle, as it were, to work on things? Or was the entire record made solely with the help of modern technology?
As mentioned earlier, we did most of the groundwork over the web and then met up to do vocals and production, both in our "home studio" in Malmö and rented spaces both in Malmö and Stockholm. So in short: we were creative online and anal producers in studio.
How did you all get interested in this particular kind of dark, drum-propelled synth-pop?
We all got laid for the first time in the eighties. So that's where our very most primal love lies. For me personally, there was a lot of great synth clubs in Stockholm (and not very much else apart from horrible metal places where you'd get beaten up unless you looked like a muscular transvestite) so when I started to go out in my teens I tended to go to goth caves getting into EBM and electronic stuff. All this sort of evolved over time into more guitar driven stuff such as the Factory and Creation stuff in the late eighties.
The Stockholm club scene sounds like an "it's all ABBA or Opeth" kind of situation. It is an interesting dichotomy, that "Swedish music", or at least what Americans know of it, swings between two wildly different extremes of bright, bubbly pop and/or dance music and, well, death-metal.
Well, this it was it used to be like. Nowadays we get a lot of different clubs, ranging from obscure indie and electronica to just plain … well, bad stuff. So although I think these extremes exist (even if the death metal scene really is Norweigan rather than Swedish – here, the long hairs do garage rock or sleaze it seems) it is not as it once was.  And for this we're very thankful. Swedes have always been an extremely open minded people so that narrow mindset does not work for the younger generations.
Which episode of Jersey Shore did your song end up in, and which song was it? Have there been any recent placements that top that one?
Can ANYTHING top Jersey Shore??? No but seriously, checking online the episode was called "The Tanned Triangle" … haha. How great is that? We had a song from our last album in Vampire Diaries last spring and a recent placement in No Ordinary Family and hoping to get a few more in the next few months.
A Jersey Shore appearance is indeed pretty epic, even if I can't bear to watch that show at all, not even with the sound off.
I would like to be diplomatic and state that "it's great that they're doing their thing" but that would be indicating it had some level of artistic integrity.
And then the three that I ask everyone, the modified Proust Questionnaire, if you will:
What was your transformative song – the rock and roll lightning strike?
Matthias: Today I would have to say There is a light that Never Goes Out by The Smiths. It's when I discovered heart & soul in music. Before that it was all … surface. Obviously, this soundtracked long make-out sessions when I was 14 together with the rest of the tracks on The Queen is Dead. Such a beautiful work of art. After that I realized that the alternative came in different flavours.
Nicklas: I had a friend who had a synthesizer. One evening while he was out in the kitchen eating with his parents I learned to play The Model. I think I was 8 years old at that time. Music became more transparent after that.  I suddenly knew I could play the same melodies and harmonies that were actually pressed on vinyl. Strange and shocking. I still sometimes revisit that feeling when using keyboards today.
Jan: Television – Venus
What was your first show (that you attended, not that you played)?
Matthias: Kraftwerk in Stockholm in … 1985, I think. It was fucking excellent.
Nicklas: 1982. A local new romantic band with loads of delay on vocals and guitars. The drummer had a white shirt with lace and very very long sleeves. The volume was so high that I lost my balance every now and then. I can't remember a single tone they played. But I still want a shirt like that.
Jan: Ian Hunter in my home town of Skellefteå. I was 10 years old and I desperately tried to copy Ian's haircut.
What was the first record/tape/etc that you bought? What was the last one?
Matthias: The first of any importance was Yazoos You and Me Both in 1983 and the last … I'm sorry, I'm from Sweden. We don't really buy records. We subscribe to Spotify. But on that note, I listened to The Crystal Stilts new album just a minute ago and that is awsome!
Nicklas: I bought Tintin Red Rackham's Treasure. Not much good music on that one. But almost immediately I traded it for Kraftwerk's Radio-Activity. The last one was a pretty lousy demo by a local band. I can't mention the band name. I know the guitarist.
Jan: Donny Osmond – Puppy Love and The Maccabees – O.A.V.I.P
An example of their groove: Today, from their new record, Great Heat: