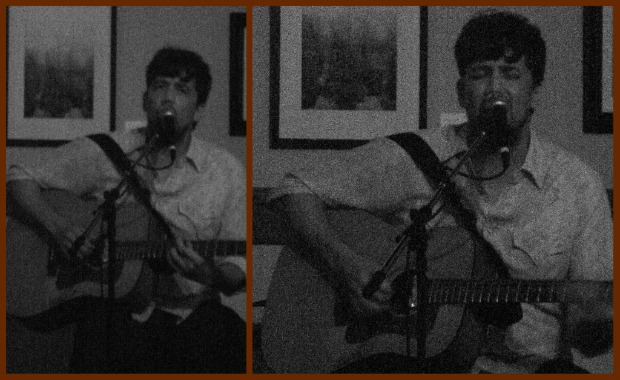 Patrick Sweany should be a household name. I believed that before I saw him live, and that belief grew tenfold last night. Setting up in a little corner of a little restaurant/bar back on his old home turf, accompanied by his dad on washtub bass, Sweany played a three-hour, acoustic show (with a short break in the middle) that drew from almost every one of his five albums as well as including a healthy dose of covers. Weaving in and out of favorites by Joe Tex, Howlin' Wolf, Lightnin' Hopkins, Sam Cooke, Guitar Slim, Bob Wills and Willie Nelson, Sweany laid down his own fans' favorites like "After Awhile", "Your Man" and "Them Shoes".
And, of course, as it was the day that would have been the 100th birthday of Robert Johnson, a blues-influenced musician like Sweany wasn't going to get away without playing a Johnson song. Though instead of echoing the covers of "Cross Road Blues" and "Sweet Home Chicago" that were surely being played in bars throughout the nation, Sweany chose the lesser known "Walking Blues", treating the crowd to some delicious slide action. Though, I have to say, my favorite cover of the night was Sweany's take on Howlin' Wolf's "Moanin' at Midnight".
Early Sweany tracks like "Sleepy Town", "Bring the Money Home" and "Bad Luck, Bad Luck" nestled seamlessly with the old blues and country covers, showing how artfully he has incorporated his influences while still making it all truly his own. Sweany's newest, and sweetest – on a number of levels, album That Old Southern Drag was, of course, well-represented with rockers like "Sleeping Bag", "Heavy Problems (Peavey Rage)", the bouncy "Shoestring" and the heartfelt "Same Thing".
The highlight of the evening was probably "More and More", a song written for and dedicated to Sweany's soon-to-be-wife Missy. He poured his heart into it, and I'm not sure I've ever seen a man happier about his upcoming nuptials.
Seeing Patrick Sweany live not only amplifies just how skilled and talented the man is as a vocalist and guitarist – he's the kind of player who has probably frustrated more than one hopeful young guitar player because he makes it look so damn easy – but shows that his stage presence and charm are equal to his musical gifts, joking with his dad and the audience (ask him about his imaginary dead brother Chip sometime) and making everyone feel like a friend.
Sweany and his pops finished the show with a cover of "Having a Party" that gave truth to the title, and, had there been room for it, there would have been dancing. Instead, the audience used that energy to call Sweany back for an encore that ended with a tour-de-force version of "Smokestacks" that included nods to everything from "Smoke on the Water" to the Rolling Stones and left everyone smiling.