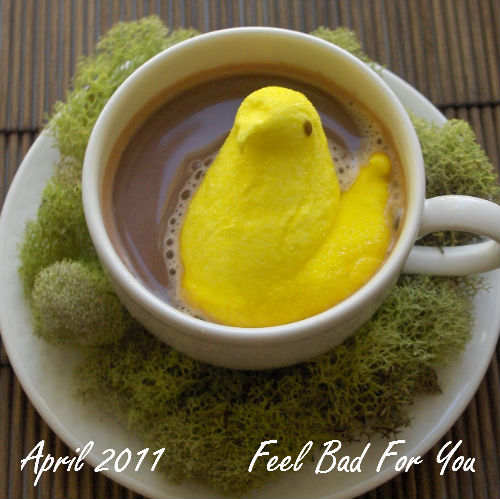 Feel Bad For You hosts a monthly mixtape comprised of submissions from music bloggers and Twitterers, and it's always a good time. This month, NTSIB jumped into the fray, and you can enjoy it all below, by stream or by download. It's a good time, people.
Title: Commodify Your Dissent
Artist: The Dead Milkmen
Album: The King in Yellow (2011)
Submitted By: Bryan Childs (Autopsy IV)
Comments: Brand new music from the Dead Milkmen. Love the lyric, "country music used to be about the music and not the country"
Title: The Ballad of Johnny X
Artist: The Bouncing Souls
Album: Johnny X 7″ (1995)
Submitted By: Romeo Sid Vicious
Comments: Been in kind of a "Fuck Off" mood lately due to various circumstances so I have been pulling out older and angrier stuff to make it through. This one is pretty standard for me when these moods rear their ugly heads.
Title: Little Summertime Girl
Artist: David Childers and The Modern Don Juans
Album: Burning In Hell (2007)
Submitted By: Truersound
Comments: Recent Childers talk made me want to submit this. I've posted this song on ATS a couple times, but I love it and I love David Childers and it's never made it to a FBFY comp….til now!
Title:Two-Headed Coin
Artist Obits
Album: Moody, Standard and Poor (2011)
Submitted By: David Horton @Popa2unes
Comments: This band just showed up on my radar, but they've only been a band since '07 but are accomplished musicians who once fronted Drive Like Jehu, Edsel, Hot Snakes, and Pitchfork.
Title: The Speed of Trees
Artist: Ellis Paul
Album: The Speed of Trees (2002)
Submitted By: Phil Norman @philnorman www.bluemoonshineband.com
Comments: "Your love makes me move at the speed of tress." For me, Ellis Paul defines the contemporary singer-songwriter genre.
Title: Land It
Artist: Vulture Whale
Album: Vulture Whale (2007)
Submitted by: Corey Flegel, This Is American Music
Comments- "This song is our Freebird" — Lee Bains (Glory Fires, Dexateens)
Title: Forty Days
Artist: Let's Active
Album: Every Dog Has His Day (1988)
Submitted By: toomuchcountry
Comments: April > Easter > Mitch > Let's Active. Naturally.
Title: Punx Not Dead…It's Just Sleeping
Artist: Yesterday's Ring
Album: Diamonds In The Ditch (2009)
Submitted By: PearlSnapMan
Title: Don't It Make You Wanna Dance?
Artist: Rusty Wier
Album: Don't It Make You Wanna Dance? (1975)
Submitted By: erschen
Comments: I hadn't heard this in years until I heard Todd Snider's version on his latest live album. This song never fails to bring a smile to my face.
Title: Champipple
Artist: John Popper & the Duskray Troubadors
Album: s/t (2011)
Submitted By: Trailer from www.farcethemusic.com
Comments: I'm a huge Sanford & Son fan, so pretty much, a song titled "Champipple" only need be listenable to grab me. Bonus points for being a pretty damn good tune.
Title: Bessie Smith
Artist: Bob Dylan and the Band
Album: The Basement Tapes (1975)
Submitted By: Jackattack
Comments: I love Garth Hudson's organ playing on this song. Absolutely stunning. And Rick Danko singing doesn't hurt!
Title: American Girl
Artist: Tom Petty & The Heartbreakers
Album: Tom Petty & The Heartbreakers (1976)
Submitted By: BoogieStudio22
Comments: How best to introduce myself? How about with *the* song from *the* album that, for me, distilled the sound of the 50s/60s (to which my older brother introduced me) & also had the attitude and energy that set the stage for my future musical preferences. I can still remember that day in 1977 when I first heard it. It was a spring afternoon. My best friend and I are cruising in his metallic blue Duster. Mike says he has a new tape he wants me to check out, pops it into the player and I hear the snare/cymbal intro of "Rockin' Around". And so started my love affair with music that continues to this day. This album is in my top 10 and this song, "American Girl", never fails to bring that day back to me. I can, quite literally, smell the smells, feel the sun and relive that afternoon. Friends think I'm crazy when I say that, but it's true.
Title: The Right to Love You
Artist: Cut in the Hill Gang
Album: Mean Black Cat (2010)
Submitted By: Now This Sound Is Brave
Comments: Covering a song by the Mighty Hannibal, CitHG make love sound like a threat. A sexy, going-down-slow kind of threat. Album only available as import, but well worth the extra scratch.
Title: If Only You Were Lonely
Artist: The Replacements
Album: B-Side to I'm In Trouble (1981)
Submitted By: @marioegarcia (@imperialrooster, vacuumsongs.blogspot.com)
Comments: Early peek at Westerberg's songwriting genius. It amazes me that he was this melodic and sincere this early in their "snotty trash" days. Perennial mixtape fave of mine. The lyrics are perfect. Who here hasn't been in the position of our hero, drunk and dying for the person sitting next to him at the bar to go home with him…
Title: Busted
Artist: Willie Nelson and Wynton Marsalis
Album: Here We Go Again (2011)
Submitted By: @mikeorren
Comments: Willie's country has always had a jazz delivery. This is the second live disc collaboration, a tribute to Ray Charles. And lately, I've been feeling a little Busted.
Title: Goodbye Princess
Artist: Chase 56
Album: Allatoona Rising (2010)
Submitted By: TheOtherBrit
Comments: One of the few albums in recent history that I love every single track on, these guys are my hometown heroes, or something like that.
Title: Alone in the Make-Out Room
Artist: The Broken Family Band
Album: Balls (2006)
Submitted By: Simon
Comments: Sticking with UK bands for FBFY, here's a killer indie twang track from The Broken Family Band
Title: Surprise, Honeycomb
Artist: The Wrens
Album: Secaucus (1996)
Submitted By: verbow1
Comments: This song is killing me lately. Can't describe it. Dark and twisted – as you can tell by the lyrics.
Title: Tennessee Nighttime Blues
Artist: Jacob Thomas
Album: Black, White and Red: Vol. II (2007)
Submitted by: Slowcoustic
Comments: Truly a down trodden track if I ever heard one – but at the same time achingly beautiful. Like exhaling smoke from lungs this song just brings a sense of stillness to the sad bastards among us.
Title: Beautiful Gas Mask
Artist: The Mountain Goats
Album: All Eternals Deck (2011)
Submitted by: noteethleroy
Title: Lookin' For A Girl Like You
Artist: Dan Tedesco
Album: Tracks On Fire (2011)
Submitted By: monkeyboy
Comments: I'm liking this guy's new album and going to see him in Denver on April 7th. Check him out!
Title: I Take It On Home
Artist: Charlie Rich
Album: 20 Greatest Hits
Submitted By: Bowood
Comments: Great voice and great advice.
Title: Rules
Artist: Blue Moonshine
Album: Distilled EP (2011)
Submitted By: Rockstar Aimz
Comments: Great little bluegrass-ish/country-ish EP. More fiddle!
Title: Drink, Fuck, Drive Truck
Artist: The Tower of Dudes
Album: A Plan (2008)
Submitted by: Jessica (newmusicco.blogspot.com)
Comments: The title says it all.