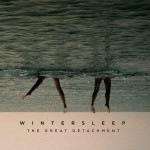 One of the ways I find new music is to go to the Soundcloud pages of labels of bands I like and see who else they have on their roster.
And thus I have stumbled over Wintersleep, who, like The Dirty Nil (scrappy little band of my heart, Frozen North division), are Canadian and signed to Dine Alone Records.
I am extremely late to the party – Wintersleep have been a band since 2001 and have won a Juno award! – but, you know, better late than not at all.
Their next record, The Great Detachment, will be out March 4, and they're stopping through SXSW later in the month. Here's a three song sampler, featuring Amerika, Santa Fe and Territory.
All three songs are solid; I'm particularly partial to Amerika because . . . because I feel like it's been a really long time since I've heard song like this, a little bit anthemic, a little bit of sledgehammer running through the bottom. All I can tell you is I think I've listened to it five times in a row and I'm still a little bit confused by the lyrics, but I also mostly don't care. … Continue reading