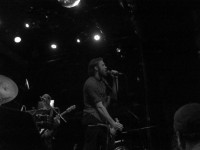 Kate Myers: beautiful voice; flashes of songwriting brilliance; not a terrible way to spend half an hour.
Empires: The scrappy little band of my heart (Midwest division) has at long last come out of hibernation – their new record, Orphan, is due June 17 – and I'm pleased to report their garage rock grit is intact, but they've added some grown-up polish and flair. Their set was 100% new tunes – bold move! – so I was briefly concerned I had missed a record, somewhere along the line, but ultimately I didn't really care because all of the songs were awesome. My final assessment: they are the aural equivalent of sex hair.
They're back in New York on June 18 at the Mercury Lounge, and, special notice to Columbus, Ohio: They're playing the Afterparty of the Fashion Meets Music Festival in your town, August 29-31, 2014.
Margot and the Nuclear So and So's: They drift more towards the Eagles country-rock end of the spectrum; I gave them three songs, as I do for anyone, and when I decided I wasn't feeling it I got off the rail so people … Continue reading