It's a simple yet sublime pleasure, and just thinking about it can make you feel a little calmer, a little more content. Imagine: You bring out one of the good rocks glasses (or your favorite mug or a special occasion tea cup) and pour a couple fingers of amber liquid (or something dark and strong or just some whole milk). You drop the needle on the jazz platter (or pull up a blues album on your mp3 player or dig out that mixtape from college). Ensconcing yourself in the coziest seat in the house, you crack the spine on a classic (or find your place in that sci-fi paperback or pull up a biography on your e-book reader). And then, you go away for a while. Ah, bliss.
In this series, some of NTSIB's friends share beloved albums, books and drinks to recommend or inspire.
---
Twingiant are in a transitional phase, and by that I mean they are in the process of evolving from stoner/sludge metal to a more "traditional" sound. The two songs below are their most recent demo and serve as signposts for their new direction. Here's what I like: It's heavy, sure, but there's some guitar wizardry involved, as well as some ogre roar.
And with that, I will turn the floor over to guitarist Nikos Mixas, who joins us today to talk about his favorite book, record and drink.
---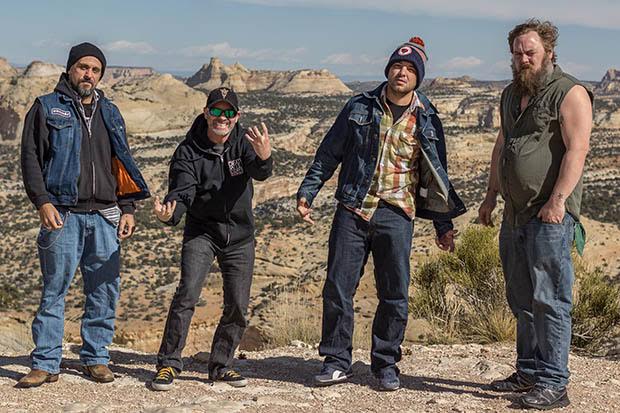 A Good Read
Confessions of A Heretic: The Sacred And The Profane: Behemoth And Beyond
There are a ton of books I could have chosen but this is probably the most recent one I've read. I always like reading biographies and autobiographies about people I deem "interesting" and Adam "Nergal" Darski definitely fits that mold. I really enjoyed reading about his battle with leukemia. It's inspiring that someone didn't coin their faith in "God" to beat a life threatening disease. It just shows you that most organized religions are a farce and as long as you have faith in yourself, anything is possible.
A Good Listen
Fuck . . . this can go a million different directions but I'm going to go with what I'm listening to at the moment . . . Journey "Evolution". This album follows that signature 70's guitar rock mold. Plus, Steve Perry is one of the best rock vocalists EVER. My favorite rock guitarist of all time??? You guessed it, Neal Schon and he fucking rips on this album. Who doesn't love Lovin', Touchin', Squeezin'?
Journey - Lovin', Touchin', Squeezin'
A Good Drink
Because I'm Greek and it would be asinine if I said anything else, it's going to be Ouzo. Don't drink it by making a shot of it, shots are for frat boys and frat boys are fucking lame. Find yourself a small glass and drop a few ice cubes in the glass. Slowly pour in the Ouzo (I prefer the brand known as "12") and watch the ouzo turn from clear to cloudy as the anise reacts with the ice, it's trippy. Sip it, don't gulp it and I recommend drinking it accompanied by a small plate or two of mezedes – the Greek version of tapas. Yamas!